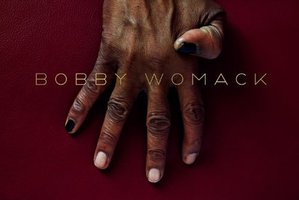 If you were taking bets you might say this could be Bobby Womack's last album. In the past year he's had surgery for prostate cancer, then a growth on his colon, and was hospitalised again with pneumonia.
He's in his late 60s and can reflect on a life born into poverty, three decades of cocaine addiction, being shot at by his wife when she discovered his affair with a step-daughter ... Not to mention his sublime soul-soaked music and work with Sam Cooke, Aretha Franklin, Janis Joplin and mostly recently Damon Albarn's Gorillaz.
Albarn has co-produced this very different album for Womack where his tattered voice and aching songs are placed in techno-minimal settings full of stuttering electrostatic beats, simple melodic phrases repeated, lonely piano and surface noise.
Yet this doesn't distract from Womack's tough, cracked and pain-filled singing - in fact it throws it into even starker contrast with every choked note and overdub.
In a snatch of spoken word Womack says as a man grows older his perception goes deeper because he understands at last what he is trying to say.
And in these songs - personal and universal pleas for forgiveness and understanding - Womack reaches for that deeper understanding.
On Please Forgive My Heart he acknowledges saying sorry isn't enough; Whatever Happened to the Times is a thoughtful reflection on hard times/"good times"; and Deep River over simple acoustic guitar is almost a spiritual of the old style. The lovely but brittle-beat treatment of Dayglo Reflection finds Womack's strained sandpaper vocals and spoken words offset by the ethereal tones of Lana Del Rey and strings, like a disturbing dialogue between the secular and spiritual.
Only the 70s-style synth and obvious lyrics on Love is Gonna Lift You Up pull this one back.
But elsewhere the rewards and vicissitudes of his extraordinary life are pressed into these songs, and it's impossible to be unmoved. Or dance to the block-rockin' gospel-techno of the too short Jubilee (Don't Let Nobody Turn You Round) at the end.
If this is Womack's farewell (and you wouldn't suggest that to him, the feisty old fellow), he's looking his maker in the eye, and going out on a high after so many lows.
Stars: 4/5
Verdict: Tough times translated into soulful truths, with brittle beats.
- TimeOut/elsewhere.co.nz