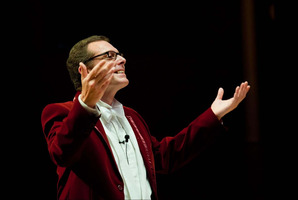 Indra Hughes is just in the door from Wellington and the annual conference of the New Zealand Association of Organists, where he experienced "the most phenomenal, jaw-dropping thing I've ever heard in my life".
The hyperbole was occasioned by a concert in which the visiting French organist Olivier Latrey and Shin-Young Lee played a transcription of Stravinsky's The Rite of Spring.
"Four hands and four feet on one organ!" Hughes gasps. "It was stunning!"
And, he adds, if you missed Latrey's Poulenc Concerto with the New Zealand Symphony Orchestra last night, the celebrated organist of Paris' Notre Dame Cathedral is involved in a number of performances around the city this weekend.
Tomorrow night sees Hughes and his chamber choir Musica Sacra in their own enterprising concert that pairs Frank Martin's 1926 Mass for Double Choir and Stravinsky's 1942 Mass for Choir and Wind Ensemble.
"Stravinsky's a bit out there for me," Hughes laughs, admitting he is best known for more traditional repertoire.
"But two or three members of the choir had been badgering me to do the Martin and Stravinsky's Mass proved to be the perfect companion piece.
"It doesn't require an organ but just 10 wind players, who are mostly from Auckland Philharmonia Orchestra. And it's perfectly suited to the radiant acoustics of St Michael's."
Hughes readily agrees there is a certain austerity to this work but points out that Stravinsky wanted to write what he described as "very cold music that will appeal directly to the spirit".
And, just when you think this could be a rather bitter musical pill to swallow, Hughes speaks of its "trance-like chanting style, with certain words being subtly coloured by special harmonies".
He goes further. "It's such a funky piece," he exclaims. "It's very cool, it's jazzy; quirky and irregular. And yet there are moments of real beauty in it."
Hughes is adding one daring directorial touch of his own, separating the various Stravinsky movements with pieces from the 12th century Codex Calixtinus which he playfully likens to "a medieval Lonely Planet guide for the pilgrims making the journey to the Cathedral in Santiago de Compostela".
Putting the ancient and modern up close and together is mutually beneficial, he explains. "There are passages in Stravinsky that sound so medieval they're positively monastic. On the other hand, the early music has such an extraordinary level of dissonance, as it was written in times before there were rules to be broken."
Alongside all this, Frank Martin's Mass is "the most lavish and utterly epic setting you could ever imagine".
"It uses a full double choir," Hughes points out. "The eight vocal parts are divided yet again to make 16 strands, creating this incredibly sonorous effect. It's like very rich string writing. In fact, you'd have to go to a piece like Samuel Barber's Adagio for Strings to see the world that Martin inhabits."
This monumental score fits very well with Hughes' philosophy as a choral conductor. "I want passion rather than an obsessive search for perfection and vocal blend. We have this little mantra that we are not a church choir, but a choir which sings church music, whether it be from the Codex Calixtinus or Stravinsky. There's so much glorious music and we hope to do the whole range of it."