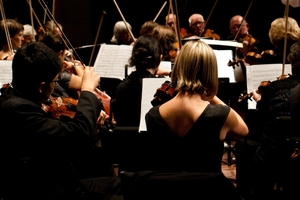 If ever a concert lived up to its title, the New Zealand Symphony Orchestra's Wonderland was it.
Auckland's second taste of the NZSO's annual Made in New Zealand celebration, masterfully conducted by Hamish McKeich, was a hearty musical meal with three nutritious mains and no distracting entrees or desserts.
Chris Cree Brown's Celestial Bodies took us to parts intergalactic, the orchestra sharing duties with subtle electronic soundscapes.
Orchestrally, it was a veritable galaxy of colours as Brown's sonic wizardry coaxed malevolent roars from black holes, Penderecki-like wails from the clouds of a nebula and steered us full-tilt into a supernova.
There was even more drama in the Quasar movement, when Julia Joyce's powerful viola solo took on the forces of orchestra darkness.
The electronics brought their own colour spectrum into play, from the iridescent unfolding of dark matter to the eerie chimes for our last vision of interstellar space.
Lyell Cresswell's Concerto for Orchestra and String Quartet was fuelled by the composer's usual irrepressible sense of momentum. The New Zealand String Quartet and the NZSO players laid out a vibrant score that seemed to re-energise itself constantly from within.
Cresswell deals in visceral contrasts, from scattering rhythms, teasingly Pacific, to intensely lyrical writing for which the four soloists played as one.
Gillian Whitehead's Alice was premiered, in 2004, to two capacity town hall audiences. Eight years on, attendance may have been woefully meagre, but mezzo Helen Medlyn revisited one of her greatest triumphs with undimmed faith and fervour. At just over 38 minutes, this is a huge sing. Medlyn was totally at ease, roving from dispassionate commentary through heart-wrenching emotion to an outburst of unabashed rage. In doing so, she breathed eternal life into the heroine of Fleur Adcock's verse.
Alice is a score of prodigious richness. Whitehead references the music of the past with such naturalness and finds different voices for the multitude of birds that hover over the narrative; she faces death with blazing bells and fury, returning to the land and signing off with a peace beautifully captured by the gentle tapping of stones.
CLASSICAL MUSIC
What: New Zealand Symphony Orchestra.
Where: Auckland Town Hall.
When: Saturday.