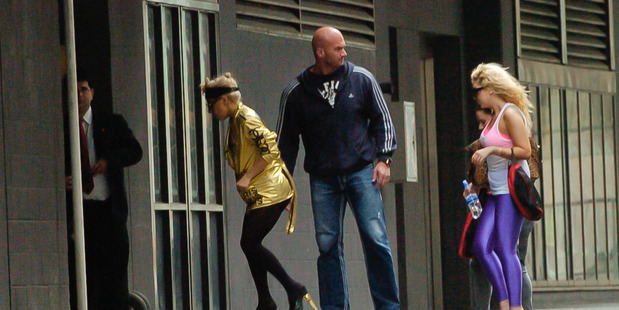 Pop superstar Lady Gaga announced her new album to the world from her dressing room minutes before going on stage in New Zealand.
The flamboyant singer took time to reveal the album plans to her 10 million followers on Twitter as she prepared to wow 10,000 fans - known as Little Monsters - at Auckland's Vector Arena on Friday.
Gaga tweeted "Exciting news little monsters! I've played my new record for my label and will be announcing my new Album Title in September! X"
After the concert she tucked into a late-night meal from Subway before heading to bed at the Stamford Plaza Hotel.
At 11.38am yesterday, she posted "woke up actually IN the wrapper of my Subway Sandwich this morning. Has this happened to anyone? I'm feeling overwhelmed."
Gaga also said she'd been "having a blast" in New Zealand and the gigs had been "Just so free, wild, happy. What music is all about."
The flamboyant chart-topper remained behind closed doors at her hotel base for much of her New Zealand stay. But yesterday afternoon Gaga briefly broke cover.
Decked out in a gold-coloured jacket and matching high heels, she slipped out a side door of the Stamford for a brief excursion, accompanied by a bodyguard and female friends.
But even the All Blacks couldn't manage a private audience with Gaga.
"Lady Gaga's agent was emailed to ask if she would like to meet the team but unfortunately there was no reply," said New Zealand Rugby Union spokeswoman Juli Clausen.
All Black Ali Williams, on the bench for last night's match with Ireland, was also unsuccessful when he took to Twitter and invited Gaga to join the squad at training.
On Tuesday Williams posted: "I have an idea? why doesn't @ladygaga come and do a training session with the @AllBlacks we teach her the game she teaches us to sing?"
However, Gaga's crew were keen to sample Auckland's nightlife.
After Friday's show, her choreographer Richie Jackson and back-up dancers headed to the VIP lounge at Britomart nightspot 1885, where they let loose on the dance floor.
"We were all wondering if Gaga would show, but I guess she's their boss so they wanted some space away from her," said a bar guest.
Lady Gaga plays the last of her three gigs at the Vector Arena tonight.
On the Edge of Glory at one-woman campaign
Gaga rode in on a mechanical horse alongside a huge disembodied head announcing her intention to invade the country and it never relaxed from there.
The show marries two themes; an impending invasion by her Little Monsters merged with a one-woman campaign to end discrimination against homosexuals.
We endured Highway Unicorn and Government Hooker from her recent album, but took to our feet when she sprang from a giant vagina belting out Born This Way.
The hits were compressed into the first half with Bad Romance and Just Dance while Gaga's rapid fire costume changes were creatively and logistically impressive.
The backdrop was a medieval castle that folded, opened, collapsed and rotated.
Gaga paused the show for 20 minutes, delving into new-age nonsense before returning to the music.
She rocked out Paparazzi and finished with The Edge of Glory - and it's obvious Gaga believes her message.
- Damien Grant