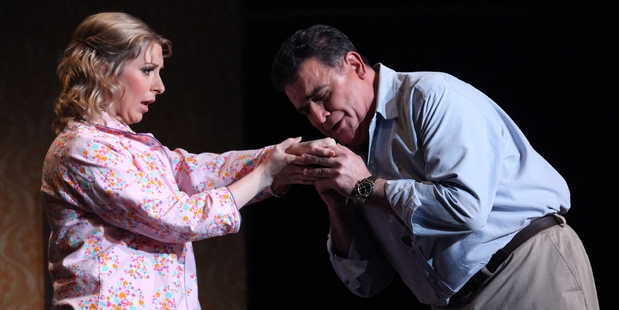 Once again, NBR New Zealand Opera offers a theatrical experience on a scale unlikely to be found elsewhere in our city.
Director Lindy Hume has transformed Verdi's Rigoletto into vital theatre on a grand scale, setting its passions and violence within the chambers and corridors of contemporary power; nominally those of Berlusconi's Italy but beware, one day it could be closer to home.
The integral use of darkness, skilfully delineated by Jason Morphett's lighting, reflects evil, ruthless times, as Hume moves her characters through Richard Roberts' sleekly ingenious sets.
The men of the chorus exert a sinister presence, whether emerging from the darkness towards the end of Gilda's Caro nome, or whispering their celebrated Act I chorus while Rigoletto's home is noisily ransacked.
The Aotea Centre's revolving stage is more than just a device to shift scenes; Hume attains an almost cinematic quality by having crucial moments played through ever-changing perspectives as the set turns around.
If Warwick Fyfe's Rigoletto is more crumpled clerk than traditional jester, his magnificently sung arias lose none of their power; the closing reunion with his dying daughter is almost unbearably poignant.
While Maria Costanza Nocentini was a sweeter-voiced Gilda in the company's 2004 production of this opera, Emma Pearson creates a flesh-and-blood heroine for us, even if opening night nerves had her Caro Nome cadenza ending in a key that did not quite match the one that the orchestra had waiting for her.
Other roughnesses will doubtlessly be ironed out, but it was a shame that an indisposed Rafael Rojas, having created a swaggeringly genial villain of a Duke, had to forgo his important aria the launches Act II.
Alongside the three principals, Kristen Darragh's wonderfully blowsy Maddalena, in a costume that would make the cover of Fetish Times, is given the perfect partner in the sexy, smooth-voiced Sparafucile of Ashraf Sewailam. Rodney Macann, as Monterone, proves he can curse with the best of them.
Auckland Philharmonia Orchestra makes the most of a score that swerves from circus-like marches to full-on tragedy, paced and primed by the expert Wyn Davies.