Yaw Boateng talks to Scott Kara about his band, his new album and his decision to settle in New Zealand.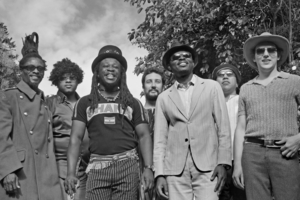 The feel I want to create is when people walk into a room and it's a party.Yaw Boateng With a top hat, beautifully natty dreads spilling out from underneath it, and his beaming smile, Yaw Boateng is one impressive looking chap.
The Ghanaian drummer, singer and band leader, who came to Auckland to study in 2003 and decided to stay, is likeable and friendly too. He finishes many of his sentences with " ... yeah", followed by a friendly little chuckle, and the man is passionate about his music.
Along with his large, multi-national band Zoh Zoh, he has been a constant on the live music scene since 2007.
His fusion of Afrobeat, African High Life (which he simply calls African funk) and reggae is pure party and dance music.
"The feel I want to create is when people walk into a room and it's a party," he says.
In 2009 he released mini-album Nomadic African, a minimal, percussion-driven Afro-beat collection. In contrast, recently released second album Lady has a louder, brassier and more upbeat tone to its nine tracks.
"The first album was like the beginning of Zoh Zoh, a time when I was trying the Afro stuff, with more drums than Western instruments. This is the official sound of Zoh Zoh now. Dancey music."
The songs, especially on the first half of the album, are still steeped in Afrobeat and African funk with a percussive party groove base.
"It's about beauty being in the eye of the beholder. Not only one particular shape or figure of a woman is beautiful. My lady is different from your lady."
Which is why the video for the song Lady - a live video with lots of ladies dancing in front of the band - has "a big girl in there, a skinny girl in there, a tall girl in there, an Asian girl in there".
Elsewhere, the sound is more expansive. On Too Many Roads there is a simmering keyboard undercurrent, the jumped up and brassy bounce of Mr President is a nod to British ska band the Specials, and then there are occasional outbursts of wailing electric guitar.
"That's Spencer. The Tongan guy [who is no longer in the live band]," laughs Boateng.
"That is his own style, but I also got him to listen to some other electric guitar music that Africans play, and so he gave it his own feel, yeah," he chuckles.
In the last two years there have been a number of lineup changes in Zoh Zoh with players coming and going due to the financial pressures of being in such a big band.
"It's hard to make money so some people couldn't stay in the band any more because they weren't making enough money," he admits.
Though frustrating, he says the current band is a solid unit made up of fellow Ghanians Kweku Akpalu (shakers, bells, vocals) and Henry Thompson (drums), New Zealanders Mahu Te Awa (guitar), Terron Service (trumpet) and Christopher Chatwin-Ward (trombone), South African Neo Phamotse (bass), Frenchman Patrick Goutanier (saxophone), and the most recent recruit, Congolese singer Jennifer Batende.
Since moving to New Zealand Boateng has been back home to Ghana twice, for a year in 2007 and in 2011 with TV host and DJ Nick D as part of the Making Tracks series. When he first went home his family struggled to fathom why their son had made the decision to live in New Zealand. But last time round he was able to play some of his recordings to his family, which helped them understand what he was doing.
"It's hard for them to get the whole picture of where I am living but now they know where I'm going," he says.
He grew up in the village of Aveme Beme in the Kpando district of the Volta region - and it was here he learned to drum and was exposed to all sorts of music, especially Jamaican reggae and ska, through his father.
"I love the ska feel of reggae. But the beginning of reggae was ska and that's what I used to listen to with my father. He was a fully reggae man, old-school reggae music. So that ska feel is something my ears have been open to a long time from when I was young.
"But I want to centre myself as an Afro funk musician, and every now and then I throw in a bit of reggae for the crowd."
Lowdown
Who: Yaw Boateng, leader of Afrobeat jazz funk band Zoh Zoh
Where & when: The Kingslander (at Nectar Bar), 470 New North Rd, Kingsland, June 15
Listen to: Lady, out now.
-TimeOut