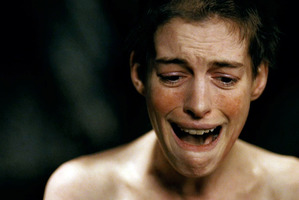 She is one of Hollywood's most glamorous women but here she is looking almost unrecognisable in her latest movie role with short hair, stained teeth and flawed complexion.
Distraught Anne Hathaway sings her heart out... as ALL her hair is hacked off in a first look at Les Misérables.
Looking gaunt, the 29-year-old belts out the classic I Dreamed A Dream against a moody backdrop of 19th century France.
Hathaway plays troubled French factory worker Fantine who is forced to sell her hair and become a prostitute in order to survive.
At one stage in the preview, Hathaway is seen weeping as she has her long locks chopped. The actress actually had her hair cut off in the film and is also thought to have gone on a controversial 500-calorie-a-day crash diet where she shed a stone in 20 days.
- Scope Features