The life of Ernest Hemingway is dramatised in a new movie about his marriage to fellow war correspondent Martha Gellhorn. Helen Barlow reports.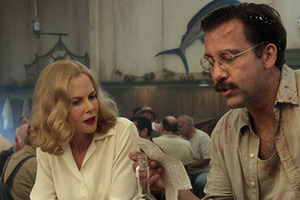 It took almost a decade for Philip Kaufman to bring the story of Ernest Hemingway and Martha Gellhorn to the screen. It took just two days for Nicole Kidman to decide she wanted the role of Hemingway's third wife and fellow war correspondent - and she hadn't even been asked.
The actress had met the director of writer-oriented movies such as The Unbearable Lightness of Being, The Right Stuff, Quills and Henry and June at a function in his hometown of San Francisco. He mentioned he was working on Hemingway and Gellhorn, a project which had bounced from being a feature to a telefeature for HBO.
Two days later Kidman called to say she had read the script and was keen. "Nobody was supposed to have the script - I guess she had her ways," laughs Kaufman. It helped that Kidman was a big fan of Kaufman, who, now 75, has been out of the director's chair for many years acting as caregiver for his late wife.
"I love that he loves women, and he really loves women," says Kidman. "He was the one that brought the sexuality to the piece. He's made great movies, and for him to want to tell this love story, that's his forte."
Kaufman had struggled to get the project greenlit as a movie, with the finance for the sort of adult dramas he makes increasingly hard to secure out of Hollywood. But he finally found a home at HBO.
"I had never done television before and even if I knew this was a big-scope dramatic love story, I knew they make some great stuff like nobody does and take on big themes with good actors. No studio would probably make this in Hollywood. It would be very hard, a movie about writers - are you kidding? About Spain, about the past?"
British-born Owen was wary of playing a famed American, but the script and Kaufman's reputation sold him.
Owen immersed himself for months in all things Hemingway to capture the man and his relationship with Gellhorn, including their correspondence. "If you read the letters, they were epic, romantic, beautiful, and they were pining for each other," he says, adding that the film's dialogue reflects both Hemingway's work and the couple's own intimate exchanges.
Shot entirely in San Francisco, the film is book-ended by an interview with the still-active Gellhorn years after they were divorced and Hemingway committed suicide in 1961.
It begins with their meeting in Key West in 1936 when Hemingway was married to his second wife Pauline, it follows their shared experiences during the Spanish Civil War, and when as husband and wife she insisted they travel to China to meet Chiang Kai-shek.
Kidman and Owen as Gellhorn and Hemingway are certainly good in the early Spanish Civil War scenes where Gellhorn teases the writer and seduces him as war blazes around them.
"I can see why she fell for him," Kidman admits, "and I think they had an enormous chemistry. He was a great teacher and she was inspired by him. They had such a provocative relationship and that was very stimulating for her."
However when they were back home in Cuba the relationship diminished and ultimately disintegrated as Hemingway virtually stole an assignment from his wife in a fit of macho one-upmanship.
Gellhorn, who was in many ways the equal of Hemingway as a journalist, covered conflicts before, during and after WWII.
"Martha had a tenacious spirit that drove her to tell the stories that can't get told. I know there are other women like her - Marie Colvin who was just recently killed in Syria, her story is an extraordinary and what did we get? A few sentences or a couple of soundbites. So in a way I am trying to talk about her too, to honour her life as well."
Kaufman says his fascination with Hemingway stems back a long way.
"Ernest Hemingway was the man who created the Hemingway code, which is sort of what The Right Stuff was about. The whole movie was about the qualities of heroism and one of those qualities is grace under pressure. Tom Wolfe [on whose book about the US manned space programme Kaufman's film was based] took that line from Hemingway. How does a person behave in battle? How does he behave in everyday situations?
"The story that became more and more clear was that Hemingway couldn't live up to his own code. He was brought down by his weaknesses while Martha Gellhorn, strangely enough, lived and carried that code. She outdid the master so that a woman carried that code, if you want to call it manliness, but it's not manliness, it's heroism. It's the kind of thing that led her for 30 years to go to every battle. In her 80s she was going to Panama, she was going everywhere to cover, to report, to show the details of things."
What: Hemingway and Gellhorn starring Nicole Kidman and Clive Owen and directed by Philip Kaufman
When and where: Screens Sky's SoHo channel, Friday June 15 at 8.30pm
- TimeOut, Additional reporting AP