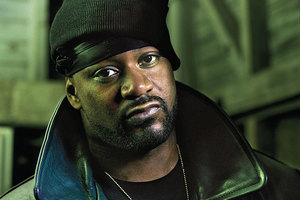 Shania Twain, James Cameron, Serj Tankian ... and Ghostface Killah. Is the Wu-Tang Clan rapper about to join the ranks of super-celebs living in New Zealand?
It certainly seemed so after the charismatic hip-hop star - known as Dennis Coles to his mum - sermonised Auckland's Powerstation crowd about how "at home" he feels when touring the country.
"It's like my spirit feels comfortable when I'm here. It feels like I could live here, like I belong here," he told his cheering fans at the mid-point of his mostly excellent show. "You love me, and I love y'all."
With his booming voice, fast-paced delivery and cheeky smile, Ghostface would be a welcome addition to the Kiwi hip-hop community.
His enigmatic presence, lively energy and quick-witted rhymes mean he's one of the better members of the legendary Staten Island hip-hop collective - and he has several classic albums of his own (check out 2006's Fishscale) under his belt with more than enough hits to fill his own show.
He didn't muck around in delivering them. With Wu-Tang affiliate Killah Priest by his side, he whipped through tracks like the horn-fuelled chants and old school thump of Be Easy and the laid back schoolyard positivity of We Celebrate like he was running out of time.
Which is exactly what happened.
After about 70 minutes, and just as the show really got going, Ghostface told the crowd he was being told to get off stage.
A reason wasn't given, and a couple of embarrassing attempts by crowd members to give him a haka send-off was a lame way to end the show.
Thankfully, the early end came after a thrilling medley of old school Wu-Tang tracks that really fired fans up, with Shimmy Shimmy Ya, Wu-Tang Ain't Nuthin' ta F**k Wit and Protect Ya Neck proving just how large the legacy of 1993's Enter the Wu-Tang (36 Chambers) really is.
The delighted chants of "Wu-Tang ... Wu-Tang" that followed the shortened set proved that if Ghostface is determined to buy a house here, he won't need to worry about finding a couch to crash on while he's searching through the Property Press.
Who: Ghostface Killah
Where: The Powerstation, Auckland
When: Thursday, June 7
- Herald online