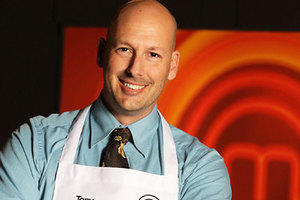 Controversial MasterChef contestant Tony Price has hit out at the reality show's judges after he was eliminated for serving "slightly undercooked" chicken.
Price was told he was being sent home after last night's tense cookbook challenge because his spicy Spanish chicken dish was undercooked, leaving Ana Schwarz and Chelsea Winter to battle it out in next week's final.
But Price - who sparked a nationwide debate about "narking" after dobbing in two contestants for cheating in last week's Singapore-based challenge - today told nzherald.co.nz his chicken dish was "cooked to perfection".
"I knew then that I didn't serve undercooked chicken and I still know now that it wasn't undercooked," he said.
"It was moist all the way through. It was in an oven at 200 degrees for 35 minutes - that's after I'd browned it off in a pan - then it went into a resting oven for another 30 minutes at 70 degrees.
"It can't not have been cooked - it's a matter of physics and maths."
Price, an Auckland resident who is now cooking fulltime, said if it was really undercooked the judges should have criticised him for putting them at risk of salmonella - a food bug which can be caught by eating raw chicken.
"If (chicken) isn't cooked, you can't eat it. That's a black and white thing. If it wasn't cooked through enough to get me eliminated, they should have been slamming me for having put them in a dangerous situation (because) they ate so much of it.
"I'm very certain that chicken was cooked and a lot of people at a glance think that it was too."
He suggested his red Peri-Peri sauce - which he injected into the chicken using a syringe - may have given the chicken a raw appearance when the judges sliced into it.
"But they knew I was doing that so they should have known to have expected that," he said.
"There's a whole raft of reasons as to why people go home ... I just think it was my time to go - plain and simple."
The two-hour finale of MasterChef New Zealand screens on TV One next Tuesday.
- Herald online