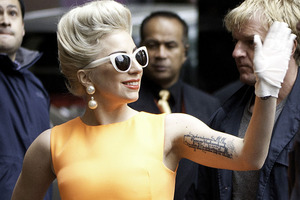 She was a little more than fashionably late, but Lady Gaga didn't disappoint her eager fans yesterday.
The call went out on Twitter yesterday morning - Gaga would be staying at the Stamford Plaza and she was due there at midday.
Slowly her fans, who she calls Little Monsters, trickled in to wait in the rain and wind behind a white picket fence.
About 80 people eventually made up the welcome party, though 50 of them were from the tourism school in the building opposite the hotel who saw the waiting media and came down after they learned who they were there for.
More than an hour late, Gaga finally arrived in a dark van as screams erupted from the mostly female crowd.
Gaga was every bit the pop star, dressed in a sharp orange dress, statement sky-high heels, white gloves and white-framed glasses to match.
She signed autographs, gave hugs and posed for photos with her hysterical fans - some of whom burst into tears.
Ellen Silvester was breathless and flustered after getting her record signed by the diva.
"It was my dream come true, meeting her," the 21-year-old said.
She has tickets to all three shows.
A snappily dressed young man behind her seemed just as pleased with seeing and feeling Gaga in the flesh.
"She touched me - she actually touched me. Oh my God," he yelled to anyone who was listening.
Lady Gaga is performing three shows this week at Vector Arena starting on Thursday as part of her world tour.
She arrived in New Zealand earlier than expected, after she cancelled shows in Indonesia when Islamic groups objected to her performances, and was trending nationwide on Twitter yesterday evening.
Despite the excitement around her afternoon arrival, last night's wet Auckland weather obviously kept the star's Little Monsters indoors as only two fans were camped outside her hotel.
Have you spotted Lady Gaga?
Email Newsdesk@nzherald.co.nz