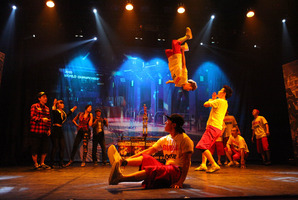 Hallyu - the Korean cultural wave - will be hitting New Zealand shores this weekend with a b-boy performance by one of South Korea's top dance crews.
Korean breakers Gorilla Crew will be wowing fans with a one-night performance in Auckland at the Bruce Mason Centre on Sunday, before heading to Christchurch and Wellington on a Korean Government sponsored trip to celebrate 50 years of diplomatic relations between Seoul and New Zealand.
What began as an underground movement in the early 90s, b-boying is now very much a part of every aspect of Korean popular culture and is even used by the Government to promote the country.
The republic's ambassador to New Zealand, Yongkyu Park, b-boying was part of the "hallyu" which also includes other Korean cultural assets such as K-pop, television drama, film, fashion and cuisine.
"The Korean wave has grown popular in many parts of the world mainly because it can win the minds and hearts of all peoples with its touching stories and beautiful expressions, which transcend race, religion, social and economic status," Mr Park said.
Gorilla Crew starred in a non-verbal show called Ballerina Who Loves B-boy that started in 2005, paving the way for b-boys to connect with the masses.
The show was a hit in Korea, and went on to play at the Edinburgh Fringe Festival in Scotland in 2007 and New York the year after.
Since then, it had also toured Singapore, Philippines, Macao and Hong Kong.
B-boy fan Jay Jay Kim said unlike K-pop, fans followed b-boy groups because of their performance styles and dance moves.
"What is so cool about the Gorilla Crew is that their moves go beyond the standard jackhammer or windmill, and we just can't wait to see what they can do in New Zealand," he said.
Mr Kim said the crew was among the "top 10", and was perhaps the most high profile crew, in a country where there were about 300 b-boy teams who danced professionally.
Also performing at the "Sounds of Friendship" show is Gong Myoung, a traditional Korean music band.
Tickets for all performances, which were distributed free on a first-come, first-served basis, are sold out.