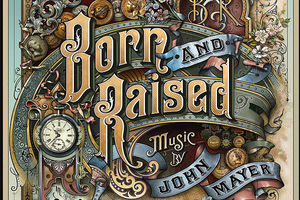 For a man who's never shied away from the showbiz spotlight, it must've been pretty quiet hanging out in Montana, where Mayer supposedly went to take time out for reflection and write the 12 songs that make up this, his fifth album.
And it's steeped in the influence of 60s and 70s bluegrass and soft rock. It's possibly his most acoustic-sounding album yet and is a strong showcase of his long-admired talents on a guitar - and harmonica, evidently.
Working with co-producer Don Was, a small, tight ensemble of well-experienced players and some tasteful guest appearances (David Crosby and Graham Nash among them), the musicality and arrangements are strong, even if they're not breaking new ground.
Lyrically he's introspective, reflective, hopeful and even almost repentant for his past bad-boy behaviour, or longing for a peaceful domestic life on tracks like If I Ever Get Around To Living and Something Like Olivia.
It sounds like he's taken heed of Taylor Swift's supposed accusations - and also her success in combining classic American country sounds with an easy pop bent. Unfortunately, there's a few too many cliche sentiments and a bit too much "me time" to make it a classic. But there's a charm and honesty to the songs and on tracks like Born and Raised Mayer's peaceful, easy, appeal is clear.
Stars: 3/5
Verdict: Mayer grabs a cowboy hat and a denim shirt.
Buy this album here.
- TimeOut