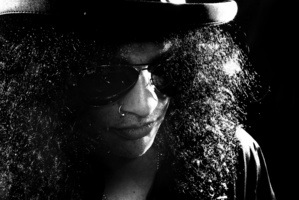 The frizzy hair, the top hat, those tight leather pants and his endless array of monstrous licks - there are many things in Slash's world that never seem to change.
Though the 46-year-old doesn't seem to be running out of riffs just yet, the one thing the iconic former Guns N' Roses guitarist has struggled with over his 20-year career is finding a stable singer to front his legendary guitar skills.
Here, on his second solo record, Slash has ditched the guest vocalists and is working exclusively with Alter Bridge vocalist Miles Kennedy and the Conspirators, his touring band from his 2010 solo debut.
Close your eyes and you can almost imagine Kennedy's fast-paced squeal - check out his indecipherable yapping on One Last Thrill - is actually coming from the mouth of Axl Rose, in an American Idol cover version kind of way.
On first single You're a Lie and the desert boogie of Shots Fired, Slash and his team even seem to be discovering their own brand of radio-friendly rock - a meeting point between the Gunners' whiney aggression and the relentless chug of Velvet Revolver.
But there's too much workmanlike filler on the likes of Bad Rain and We Will Roam, and Kennedy's generic lyrics ("Here comes the bad rain, don't know when it's gonna stop") don't help.
As the grunty riffs and searing solos that back album highlight Halo suggest, it's just better when Slash lets his guitar do the talking.
Stars: 3/5
Verdict: Former Gunners' axe man finds stable singer.
Buy this album here.
-TimeOut