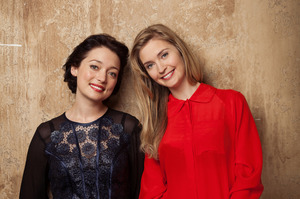 Shooting is about to start on The Blue Rose, the latest comedy drama from the makers of Outrageous Fortune and The Almighty Johnsons and which reunites those Outrageous West sisters, Antonia Prebble and Siobhan Marshall.
The pair play friends Jane and Linda, who are also the heads of the Society of the Blue Rose, a group of temps, personal assistants and computer nerds fighting for justice in between dealing with office politics.
It's a series, says its producers South Pacific Pictures, "about what happens when the overlooked and underpaid take back a little power".
The pair say they're excited but nervous about their new lead roles, which were written especially for them by Rachel Lang and James Griffin.
Marshall: "I'm quite nervous about it and I'm getting more nervous about it as we get closer to the shoot and it becomes more and more of a reality."
Prebble: "I'm quite stressed about it. The reality of it hit me the first time I came into the production office and I saw the cast photos up on the wall and me and Siobhan were at the beginning. I was like 'oh, crap!"'
Also in the cast are, among others, Anna Jullienne, Jennifer Ludlam, Matt Minto, Stelios Yiakmis and Theresa Healey.
The show will start screening on TV3 later this year.
- TimeOut