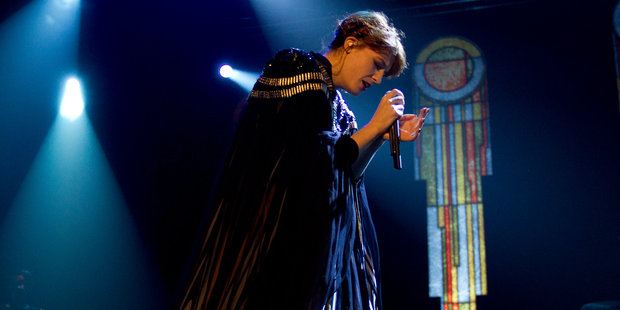 Florence has taken her nightingale voice and built it into a dramatic arena-filling stage show of grand proportions.
First performing here in 2009 at indie festival Laneway off the back of her popular album Lungs, the delightful English star returned in 2010 to perform at a slightly soulless Trusts Stadium, so it was a pleasure to see her, on the last show of her Ceremonials tour at a sold out Vector Arena, completely owning the stadium sized show with her six piece band and two superb backing vocalists.
Theatrically lit with multiple layers and levels of lights, and five sculptural, organ-pipe like columns, they were quite a sight to behold as they opened with Only If For A Night.
Dressed to begin with in a sweeping black cloak with bejeweled epaulets, she looked almost birdlike with her flaming hair, dashing about the stage, swirling in circles, and imploring everyone to raise their voices. Warm and confident, the 25 year old quickly had the crowd in singalong mode for What The Water Gave Me.
Ranging across hits from both albums, she charged through a 14 song set with incredible energy and in fine voice.
She had the audience "raise each other up" for Rabbit Heart (which resulted in a sea of shoulder rides), set off a dance competition for Spectrum, asked everyone to "please be upstanding for the hymn" for crowd favourite You Got The Love, and had the stadium "pogoing" for her early breakout hit Dog Days Are Over.
Some of the most touching moments were in the quieter sections, just voice and harp or piano, with Florence less worried about belting out anthems and using her voice more intimately - such as in Leave My Body or Lover to Lover.
But the crowd loved every minute, and wrapping up with an encore of two recent singles, Never Let Me Go and No Light No Light, she too looked emotional and happy as they said goodnight.
* What did you think of the concert? Post your comments below.