Lady Gaga's Simpsons cameo, new music from Sleigh Bells and Lupe Fiasco, and the trailer for Bradley Cooper vehicle Hit and Run feature in today's wrap of the best web links we can find.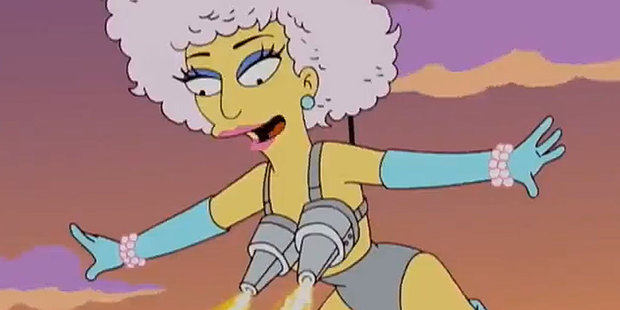 1. She's currently kicking up a storm in Manila, but Lady Gaga has found time on her worldwide jaunt (she hits New Zealand in a matter of weeks) to record a cameo appearance in a flaming bra and brand new track for The Simpsons. Check out her track You're All My Little Monsters below - and make sure she doesn't singe your eyebrows. (NME)
2. Bradley Cooper with dreadlocks. Dax Shepard as a bank robber-gone-good. Kristen Bell as an airhead blonde. Car chases. And bad prison sex jokes. Hit and Run, the new film from dude behind Wedding Crashers, looks like a riot.
Check out the trailer here and be warned: It contains foul language and the worst bleeding nose you've ever seen.(YouTube)
3. I'm gonna risk every remaining shred of credibility and go out on a limb to say this, but I enjoyed Battleship. Sure, it was ridiculous, but it knew it - and it had freaking awesome alien spaceship eye candy. Anyway, if you've seen the movie you'll love this: Every line of dialogue uttered by Rihanna in the film. My personal favourite? "Look dapper." Sound advice. (Gamma Squad)
4. Anti-Kanye Lupe Fiasco is back with a new album. And it's not just any album - this one's a sequel to his critically-acclaimed debut Food & Liquor. The title's a mouthful - Food & Liquor II: The Great American Rap Album Pt 1 - but the first single Around My Way (Freedom Ain't Free) is a Tribe Called Quest-style horn-drenched summer stunner. (PMA)
5. Sleigh Bells are slaying it right now. And while we keep waiting for news of a New Zealand tour - please, somebody, get them over here ASAP - we'll have to make do with this brand new video for their hyper heavy track Demons, and this dubsteppy Diplo remix of the same track. Better book in for a neck massage. (PMA)
Follow Chris Schulz on Twitter
6. It's going to be bloodier, more adventurous and love will blossom. That's according to the cast of The Walking Dead in a new video premiere for the third season of the zombie-filled horror show. As long as they leave that damned farm behind and get rid of Lori, I'll be happy. (YouTube)
7. Who has the best beard in rock? Rolling Stone magazine attempts to find out. But one thing's for sure: Rick Rubin needs to find himself a barber. (Rolling Stone)
8. If you're looking for the best rapper alive, you found him. Meet Krispy Kreme, YouTube's latest rap hero thanks to his song Haters Wanna Hate Me, featuring Money Maker Mike. How good is he? Eminem is shaking in his Nike trainers. (YouTube)
9. New stills and posters for The Dark Knight Rises? Why yes please. (Empire)
10. No link to finish with sorry, just an awesome quote from Sacha Baron Cohen: "When I played Bruno, I had all my body shaved for a year, so (my wife Isla Fisher) had to sleep with a shaved gay man, who she managed to turn bi."