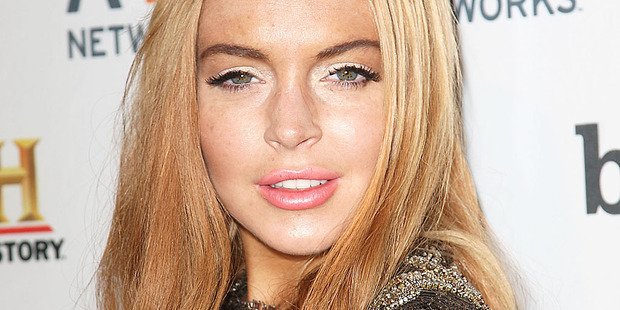 Lindsay Lohan is chomping at the bit to get back to the day job in upcoming Elizabeth Taylor biopic, Liz & Dick.
There's just one potential spanner in the works: Who will play Richard Burton?
Producers of Liz & Dick, a made-for-TV-movie for American cable network Lifetime, have yet to cast the actor to play the role of Burton, reports E! News.
With filming for the flick set to begin on June 4, the lack of a male lead seems problematic. But nay, says the movie's executive producer Larry Thompson.
"We hope to have someone in place very soon," Thompson told the website.
"We are very close."
So are there any frontrunners to play Dick?
"As of today there is no final casting. They have been looking at a lot of actors," a source told E! earlier this month. "Everyone wants to make sure the male lead not only can pull off Richard Burton, but that they have great chemistry with Lindsay. It is a double-whammy casting challenge."
Gossip Girl actor Matthew Settle is a hot pick, according to RadarOnline. Along with Craig Robert Young and Sean Maguire.
But Lohan has reportedly nixed those choices after viewing their audition tapes.
"Lindsay declared that none of the actors were the right fit and that she wanted to go to London to look for a possible Burton actor there," a production snitch told the website.
"Lindsay is being an absolute nightmare about who should play Burton. She believes Matthew Settle is too old to play the role, and she wants a major A-list star to be her co-star. However, her salary for the role took up a major portion of the budget, and the Burton gig will likely only pay US$200k, max. The producers don't need to get Lindsay's approval of who will play Richard Burton, but they want to keep her happy."
It was officially announced in late April that Lohan, 25, will portray Taylor in the movie, which will be based on the story of her romance and two marriages to Welsh actor Burton.
"We have wanted Lindsay from day one," Thompson dished at the time. "She had a lot in her life that was going on. We needed to give her time to take care of her business, and while we negotiated the deal for her we prayed for her-and wonderfully she has behaved. She's cleared herself and we're ready to start this movie."
Speaking of her role, Lohan said in a statement: "I have always admired and had enormous respect for Elizabeth Taylor. She was not only an incredible actress but an amazing woman as well.
"I am very honoured to have been asked to play this role."
And while she waits for her leading guy, Lohan's been prepping to make sure she looks the part - sartorially at least.
Scandal sheet TMZ has published a series of snaps of the Mean Girls star sampling a series of Taylor-inspired outfits during a recent wardrobe fitting.
Check out Lohan in a flaming red dress here, which the website claims is based on a Valentino dress Taylor once wore.
Sources claim the starlet has "final say on all wardrobe decisions" and is pulling out all the stops to "perfect Liz's looks".
The website also claimed in February that Lohan is "obsessing over getting the part right" for the TV biopic.
"Lindsay is doing nothing but watching old Liz Taylor movies to help her recreate the Hollywood icon's posture, speech, and every other little detail," a source told TMZ.
But while Lifetime execs enthused that Lohan is "one of the rare actresses" with the talent to play the late, great Taylor, outspoken comedienne Rosie 'Donnell has given her casting the thumbs down.
While appearing as a panelist on the Today show a few weeks ago, O'Donnell opined that Lohan isn't "capable" of portraying a young Taylor.
"I feel very sorry for her," said O'Donnell. "I think she needs a lot of help. She needs a lot of time away."
And when TV pundit Donny Deutsch chimed in to say he was onboard with Lohan's involvement, calling her "our generation's Elizabeth Taylor!" O'Donnell saw red.
"You're out of your mind! You're a crackhead!" O'Donnell fired back. "The last thing she did good she was sixteen," she said.
"I don't think she's right for the role and I don't think she's capable at this point to portray that character. I think the interest level in her has waned significantly."
Lohan, in turn, fired back: "I think Rosie should focus on her own career and stop worrying about everyone else's."
* Any suggestions for who should play Richard Burton in the biopic?
- Blogger Bites Back