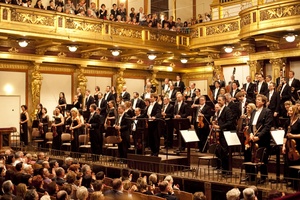 We last experienced Strauss's An Alpine Symphony at the 2003 Auckland Festival in a venture that mobilized the combined forces of the New Zealand Symphony Orchestra and Auckland Philharmonia Orchestra.
On Saturday, the NZSO took on his epic of musical mountaineering all by itself, under the expert baton of David Zinman. And, having performed it in Wellington, just 24 hours previously, the players acquitted themselves admirably, both in musicianship and stamina.
An Alpine Symphony is one of Strauss's most approachable scores.
Its set pieces were brilliantly delineated. A cascading waterfall eventually revealed a mysterious Spirit of the Alps; later on, the raging of the celebrated storm was fired by the furious whirring of a wind machine, while thundering organ chords hinted at an imminent Apocalypse.
Perhaps the more literal scene painting, such as clanging cowbells in the meadow, might inspire a surreptitious smirk, although it was impossible to resist a rush of adrenalin at Strauss's effulgent sunrise and the C major triumph of a summit achieved.
Zinman marshalled these moments well; for some in the audience they would have been expected and enjoyed; for first-time listeners, they must have been revelations.
The American conductor coolly achieved the utmost clarity even in Strauss's darkest and deepest recesses. Particularly memorable, early on, was some rapturous string playing, both from first desks and the full ensemble.
Earlier in the week, Zinman had emphasized to me that Strauss's score is an example of fine symphonic writing. And it was revealed as such in his deft handling of recurring themes of significance, especially under the weltering blast of the storm.

Before interval, Zinman stressed the ceremonial in the first movement of Mozart's Prague Symphony and, when major turned to minor, reminded us that the spirit of Don Giovanni hovers over this music.
What: New Zealand Symphony Orchestra
Where: Auckland Town Hall
When: Saturday