Not one but two new Anchorman 2 teaser trailers have been released online. That and plenty of other goodies feature in our wrap of the best links on the web today.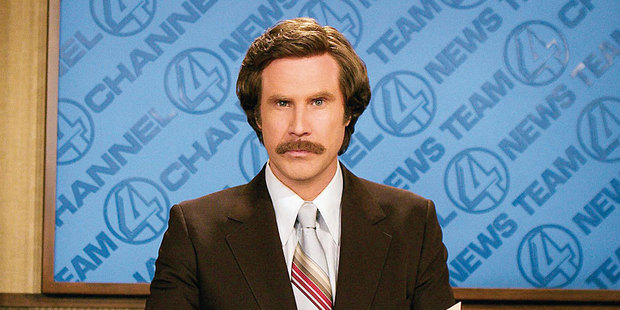 1. Yes, we all know Ron Burgundy is back. And yes, there was a new teaser trailer for Anchorman 2 screening before The Dictator in the US (not here unfortunately). And yep, that one's all over the net right now. But did you know there was a second, alternate trailer over on FunnyOrDie featuring a completely different spiel from Steve Carrell's weatherman Brick? Brick may love lamp, but I love Brick. (FunnyOrDie, Shortlist)
2. Speaking of trailers, the new James Bond Skyfall teaser is out and instead of those Inception horns that seem to be in every trailer released over the past 12 months, we have dubstep-style military drums ramping up the tension.
Bond is back, and he looks angry. (YouTube)
3. The xx have taken a while to release any new material, but just like a bus, you wait aaages for one to show up and then five come along. PrettyMuchAmazing is hosting all of them right now so pick out a favourite right here. (PMA)
4. Comedienne Kristen Wiig bowed out of Saturday Night Live on, yep, Saturday night. So what better time to pull together a collection of her very best sketches. Thanks Huffington Post, you're the best. (Huffington Post)
5. British geek-boppers Hot Chip are gearing up for the release of their new album In Our Heads on June 11, and here's a tasty teaser with an appropriately warped video for the bleeps and blips of Night & Day. Shame we'll never see them in the Boiler Room again huh? (YouTube)
6. If you're a hip-hop fan you need El-P's new album Cancer For Cure in your life. Stop what you're doing, rip those cool Sennheiser headphones off the head of that dude that just walked by and race over to PMA to stream it at once. (PMA)
7. For tech geeks, the Webby Awards are like the Oscars, but cooler. Pitchfork points out that two amazing things happened at this year's event: One, Passion Pit played their weird new song Take a Walk (those lyrics are awful huh?) and two, Bjork's acceptance speech consisted of five words. You'll never guess what they were. (Pitchfork)
8. Three words: New Savage song. (Soundcloud)
9. Robin Gibb passed away yesterday, but this TV reporter managed to turn it into a bit of a joke with her "fart failure" call. Ouch, lady. Too soon. (YouTube)
10. By my reckoning, Garbage have just released their best album since their first one - check out the blistering Control and Battle In Me for proof. Here they are performing Automatic System Habit on Jimmy Fallon's talk show and OMG SHIRLEY MANSON WHAT ARE YOU WEARING? (YouTube)