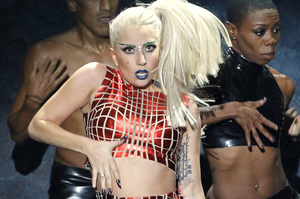 Christian groups in the Philippines have called for a ban on Lady Gaga's Manila concerts, saying her song Judas is an offensive mockery of Jesus Christ.
And Manila's mayor has ordered Gaga not to "exhibit any nudity or lewd conduct which may be offensive to morals and good custom", with the stark reminder that the penal code in the primarily Roman Catholic country of 103 million can imprison anyone for up to six years for offending race or religion.
Youths gathered at a rally outside the mayor's office chanting "Stop the Lady Gaga concerts", while members of the Biblemode Youth Philippines group called her videos religiously offensive.
In the song, she calls herself a "holy fool" who is "still in love with Judas", singing: "Jesus is my virtue/And Judas is the demon I cling to".
In the accompanying video, Gaga plays a biker chick riding behind a man wearing a crown of thorns, while longing for another biker with "Judas" emblazoned across his leather jacket.
The singer is due to play the 20,000-seat Mall of Asia today and tomorrow.
James Imbong, a lawyer filing a petition to ban the concerts, said Christian groups would not accept a compromise as organisers in South Korea did when Seoul authorities forbade under-12s from attending instead of cancelling the concert.
"She has a song that suggests that she wants to have sex with Judas and performs it with a dance," Imbong said.
"Of course, it would be accompanied by a costume that has pornographic elements." Tens of thousands of Gaga fans, from Seoul to Jakarta, are campaigning for the singer's right to freedom of expression, after attempts by religious groups to ban shows during her Born This Way Ball tour of Asia, calling her music, persona and style the "work of Satan", "dangerous to youth" and "spreading unhealthy sexual culture".
Indonesian activists called the cancellation of a gig in Jakarta a sign of the country's "Talebanisation" after authorities withdrew permission for her concert on June 3, making her the first foreign artist to be banned despite selling out a 52,000-seat venue.
The 26-year-old has received an outpouring of support on Twitter, where she has 24 million followers, since the trouble over the tour began last month.
Indonesian human rights activist Andreas Harsono said the concert ban represented "the Talebanisation [of] Indonesia", while sociologist Ida Ruwaida said it was up to the Government to "facilitate different interests without allowing the cultural hegemony of one group over another".
Police denied the singer a concert permit amid claims from hardline Islamic groups that the suggestive nature of her show and lyrics would sabotage the country's moral codes of conduct.
"During her concerts, Lady Gaga looks like a devil worshipper," said Suryadharma Ali, the Religion Affairs Minister of the nation of 248 million people, mainly Muslims.
The Ministry of Tourism added that foreign performers should dress modestly on stage, and the Government warned music promoters to consider cultural traditions when planning concerts.
Human rights activists and academics have questioned the Government's continued defence of Islamic militants' threats.
IT'S TOO EASY
Mike Stock, one-third of arguably the most successful songwriting trio of all time, has branded the likes of Lady Gaga and other female pop performers as "sluttish" in an attack on the sexualisation of pop music.
The songwriter, who with Matt Aitken and Pete Waterman formed Stock, Aitken and Waterman and had more than 100 top 40 hits in the 80s and early 90s, says modern US performers especially are resorting to risque performances and sexually-charged pop videos because they don't have much of "a sell".
Stock, 60, said: "It's easy: if you haven't got much of a sell, stick some sex in the video and the job's done. It's easy and lazy. And probably shows a lack of ability to do something else.
"Adele doesn't have to resort to the sexual thing, she's there because of the songs. It's largely the Americans, to be honest - the new breed of rap and Lady Gaga types. They're all just ... sluttish. And young girls think they are someone worth emulating.
"There's nothing wrong with being sexy. It's just [an issue] if it's the only thing on offer for kids."
- Observer, Independent