Lydia Jenkin talks to Celtic Diva Nicola Joyce about the quartet's style and falling in love with a Maori waiata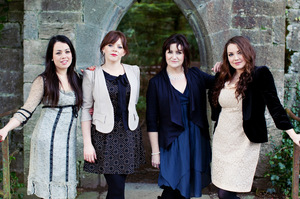 When you mention Celtic music, some will think of Riverdance or The Corrs.
But the four women performing as part of the "Celtic Divas" touring line-up offer a somewhat different evening of entertainment.
"Ah well, there's three acts, and our styles vary slightly, but it is all rooted in the traditional music of Ireland," explains Nicola Joyce, who is the lead singer for popular contemporary Irish folk band Grada when she's not performing solo, and is nothing like a diva.
"Pauline Scanlon and Eilis Kennedy come from West Kerry and they sing quite pure, traditional songs. They're very genuinely steeped in the tradition, and they have a huge song collection taken from their families. Noriana Kennedy has a bit of an old-time Americana influence on her songs, but it's still related to Irish music, because that music comes out of the Irish immigrants who went to the States.
"And then mine would be more Irish folk, I guess, rather than purely traditional, and I write some of my own originals too, so it's a mixture.
I guess the thing is it's all very genuine, rather than the more commercialised side of Irish music."
They'll be kicking off their world tour in Auckland, and releasing Celtic Divas II, which is a collection of songs recorded over a few days at Christmas, when the four singers were able to get together in Dublin with their musical director, Gerry Paul (who's also a member of Grada, and grew up in New Zealand).
The four are all devoted to the tradition of telling stories through their music, and to reinvigorating songs which have been around for many generations.
"Being that we're all women, and romantics at heart, there will be a lot of love stories - the best songs are often rooted in love stories. But sometimes they might be love stories told through a tale of immigration, or perhaps something like a murder ballad, which are quite interesting.
That was a big scene in traditional American music in the 1800s, and we have kind of a morbid interest in them, so we've included a couple."
Joyce has been singing songs like these since she was a young lass - her father owned a pub, so there were always many musicians around, and traditional songs were a regular part of home and school life in a small town north of Galway.
"Dad would play with a band four or five nights a week, and played a mixture of traditional and folk music, and he was quite big into country music, too. My grandmother also loved to sing, so there was always a lot of music around. I remember being quite shy about singing songs initially, but then you find your place and learn the songs, and it's great. It's like that for most people in Ireland though, music is centred around the pubs and it's a very social thing. My story isn't unusual."
Though she originally trained to become a teacher, Joyce ended up joining Grada after their previous lead singer left and her brother suggested she audition.
"I had to learn a whole new set of songs - and learn how to play the bodhran [an Irish drum] - and then my first gig was in front of 2000 people in Belgium."
Her musical career has grown from there, and she's expanded her musical tastes as she's toured. For instance, included on the album is Joyce's interpretation of a Hirini Melbourne waiata called Homai o Ringa, which Joyce fell in love with after Paul introduced her to it while they were touring New Zealand in 2007.
"Gerry played it to me in the back of the van on his iPod, and I loved it. And I wanted to know more, so we had it translated into English, and I loved the sentiment of praying to your ancestors for guidance."
They played it a few times on that tour, with the help of a Kiwi friend of Paul's.
Nicola recalls that the audience made her feel like it was something very important, like it made an emotional connection, so they decided to record it for the album with Joyce recording her part in Los Angeles, and Trinity Roots member Rio Hemopo recording extra vocals in Wellington.
"The universal themes of love and struggle and so on will always appeal, because there's a certain romance to it and a nostalgia for it."
Lowdown
Who: Celtic Divas - Nicola Joyce, Norian Kennedy, Pauline Scanlon and Eilis Kennedy.
When and where: May 24 at Concert Chamber, Auckland Town Hall; May 25 at Baycourt Theatre, Tauranga; May 26 at Playhouse Theatre, Hastings; May 27 at Paramount Theatre, Wellington
Album: Celtic Divas II
- TimeOut