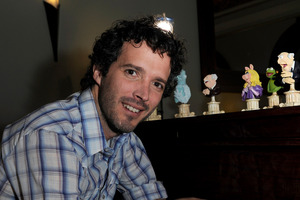 A trans-Tasman flight, expenses and $1660 may seem an excessive cost for a cup of coffee, but one Flight of the Conchords fan will spend that much to meet one half of the folk-comedy duo Bret McKenzie.
Sydney man Robert Howie, 29, this week won a Trade Me charity auction to sit down with McKenzie over a Fair Trade cuppa in Wellington.
The Conchords star had offered to meet him in Sydney later in the year.
"But it's more fun to come across to Wellington," Mr Howie said.
"I'm all for frivolity - in March a friend and I flew to New Zealand just to take a photo for a scavenger hunt, we spent about 26 hours in the country."
Mr Howie says he took his time to tell his wife he was bidding on the auction, which includes a guitar autographed by McKenzie and comedy partner Jemaine Clement.
"A week passed and I still had the leading bid so decided it was time to let the wife know I may have just spent a lot of our money on a cup of coffee.
"Then in the last hour of the auction I got a message on my phone saying I was outbid. We decided this was a pretty special once in a lifetime opportunity - so I bid a little more and won."
The proceeds of the auction, part of Oxfam's Biggest Coffee Break campaign, will go towards the charity's push to promote Fair Trade and raise funds for its work with communities in the developing world.
Mr Howie, who has worked for an aid and development organisation, said he was a strong supporter of the camnpaign and ran a small Fair Trade stall at some local markets.
"I'm a big fan of Oxfam and am passionate about reducing global poverty, so parting with so much money to assist community development in poor communities sits fine with us," he said.
"And the super bonus is I get to meet Bret McKenzie."
Mr Howie said he loved both seasons of the Flight of the Conchords' TV show and reckoned he had watched every clip of them on YouTube.
McKenzie said buying Fair Trade products was a simple way of making the world a better place.
Coffee dates with others stars, including Sir Graham Henry and actor Shane Cortese, were also auctioned as part of the campaign.

- APNZ