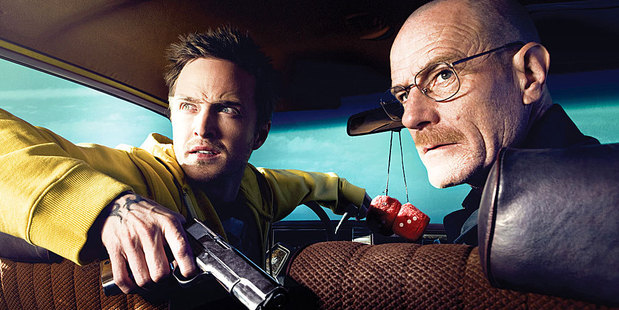 The man behind one of the best shows on television says Breaking Bad's creative team are "killing themselves" to give the show a proper send off.
The critically acclaimed show, about a school science teacher who turns to cooking meth after being diagnosed with cancer, is set to come to an end with its fifth season, which begins airing in America later this year.
While the final season will be split into two parts, the last of which will air in 2013, creator Vince Gilligan says it will end "on a high".
"We're killing ourselves to make the show as satisfying as possible," Gilligan said in an interview with Digital Spy.
"We're gonna do our damnedest to make this thing end with a blast and end on a high note, in a way that will satisfy everyone. But I think, as we all know, there is no satisfying everyone.
But we'll do our best."
Gilligan warned not everyone would be happy with the show's ending.
"Just the law of averages tells me that a lot of folks will say, 'Nah, that's not what I hoped for. That's not what I saw in my mind's eye.'
"I don't say that because I think it'll be unsatisfying. I think it will be [satisfying] for a large majority of viewers, and that is certainly our intention, but when you make an investment in a television show, you tend to have a proprietary feeling towards it.
"These characters become your characters, and you have hopes and dreams for them. You have expectations for them."
Few details have emerged about the story arc for the show's final season, but Gilligan said splitting it into two parts gave them more time to work on the story.
"It certainly could have been aired as one long block of episodes, but I think the folks that make those decisions - who are at a pay-grade higher than mine - figured it would be better to do two smaller-sized seasons and to take us through the year 2013," he said.
"I'm very happy about that. I like the idea of us being around a couple more years."
Season three of Breaking Bad is currently airing on Four in New Zealand.
Watch the behind-the-scenes clip from season five:
- Herald online