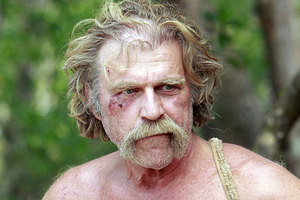 Survivor's latest victim Greg "Tarzan" Smith says he acted "nutty" on the show to make himself seem unthreatening to his fellow tribe mates.
Tarzan, a plastic surgeon from Houston, became the last man eliminated from Survivor after failing to split the show's all-girl alliance.
Five women are left in the running for the show's US$1 million prize: Kim, Sabrina, Chelsea, Christina and Alicia.
Tarzan caused plenty of friction with his tribe mates over his outlandish behaviour, like bizarre quotes, forgetting names, and putting soiled underwear into a clean pot of boiling water.
One contestant labelled him "random" and "off the wall" but he told nzherald.co.nz that acting "really nutty" was his gameplan from the start.
"It's not wise for you to be the fittest or the smartest (player). At some point those people are voted off," he told nzherald.co.nz.
"In order to succeed I had to belittle myself and play under the current and not let them think I was too smart or too wise or too plotting.
"I did that pretty successfully."
Tarzan, 64, insisted he was the one pulling the strings early on in the game, but found running an all-male alliance frustrating.
"On camera I was acting the fool. In private I was explaining all this stuff so that they would do what they were supposed to do. It would help them, and help me."
Tarzan admitted he wasn't after the show's prize money.
"My main goal for me was to experience the adventure, relive some adventures I'd had before (and) try to manipulate through an exciting chess game. It was like an 18-tiered chess board with 18 brains playing.
"It was a wonderful experience for me."
* The final of Survivor: One World screens this Sunday on Four. nzherald.co.nz will have an interview with the winner on Monday morning.