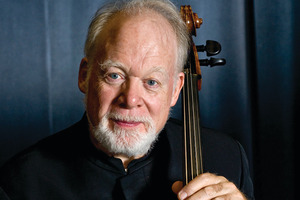 In 2003, when Lynn Harrell last played Elgar's Cello Concerto with the NZ Symphony Orchestra, he did not realise that his filmed performance would be interwoven into a documentary by Auckland film-maker Annie Goldson.
He admits he was eventually "blown away" by the film, Elgar's Enigma, with its premise that the 1917 Concerto may have been inspired by the 1916 death, on the Western Front, of a New Zealander who happened to be the son of the composer's former fiancee.
"We're told in music school to read composers' letters in order to understand their music better," he says. "With film, the power of the visual gives a much more vivid picture of it all."
Tonight, in the Town Hall, this autumnal work is the centrepiece of the NZSO's For the Fallen concert, but for Harrell, the impact of this music stretches far beyond Flanders and Gallipoli.
"In the DNA of the piece itself there's this sense of irretrievable loss," he says. "You might relate this to a time of your own life that you remember and are not able to revisit.
After all, you can't raise your dead father and tell you how much you love him."
I ask him whether he agrees with Scottish conductor Garry Walker who told me a fortnight ago that this Concerto was weakened by the return of its beautiful Adagio theme. The American will have none of it. "I think that reminiscence is profoundly touching," he retorts. "Especially after all the battling that has gone on earlier in the last movement."
I sense that Harrell harbours a certain nostalgia for a musical world that used to be, and he agrees that "we're going through a difficult patch at the moment".
"I see a lack of perceived dynamic leadership," he continues. "Before, we had big brother record companies who would tell us which artists were the best in the world; now it's just a matter of how many hits they get on YouTube and that has nothing to do with any intrinsic artistic quality.
"I was told that some of those doing the hiring for orchestras have only just graduated from college. They don't know who's out there, so they go to YouTube."
Harrell's fine Christopher Dungey cello makes for a much more positive subject and, at one point during our conversation, he has to remove it carefully from the hotel bed so the maid can undertake her ministrations.
"It has a clear, brilliant tone with a particularly warm sound," he explains. "Unlike the old instruments, there are no weak or slightly tired places because it is all new wood."
Harrell has theories that a good player can assist the tonal maturing of a cello, as happened with all those Stradivarius instruments centuries ago.
"The tonal characteristics will keep on developing. Its maker told me my cello has changed more than any other instrument he's made. That's because I play it so much and I draw out every ounce of sound quality that it can muster."
Performance
What: New Zealand Symphony Orchestra
Where and when: Auckland Town Hall, tonight at 8pm