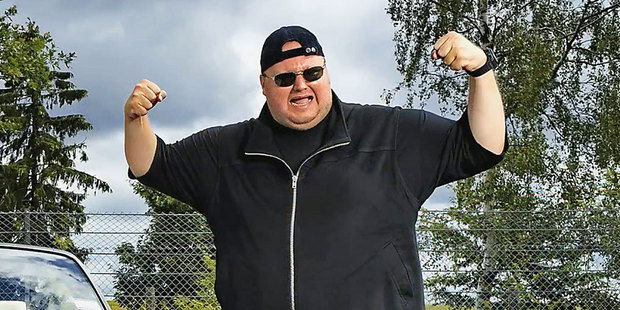 The life of eccentric billionaire Kim Dotcom is being made into a documentary, according to reports.
Actor-producer Donovan Leitch and Alex Mardikian, a friend of Dotcom, told The Hollywood Reporter they are producing a documentary on the head of file-sharing website MegaUpload.
New Zealand filmmaker Fergus Milner is said to be producing the film, which has been given the working title Mega Conspiracy.
The pair have met with Dotcom in New Zealand on three occasions to discuss the project.
"Kim is part of the story, but we want to tell the whole story," Leitch told the Reporter.
Mardikian said they had already shot 60 hours of interviews, with Dotcom and other MegaUpload employees.
Distribution has not yet been secured for the film, but Dotcom will not be behind distribution, he said.
"That breaks all the rules of it actually being a fair piece," Mardikian told the Reporter.
"If it is under Kim's direction, it is not a documentary, it is a freaking commercial for Mega. That's what we are avoiding."
Meanwhile, former New York Times journalist Neil Strauss is working on a biography of Dotcom.
Strauss, who has written biographies of Marilyn Manson and porn star Jemma Jameson, joined Leitch in New Zealand to meet Dotcom in October.
Mardikian also told the Reporter Dotcom will release his first album mid-summer (mid-winter for New Zealand), along with two music videos.
He said the album "starts in the electronica category" but has some surprises.
"Believe it or not, it has romantic ballads. It is definitely not what I'd expect."
Dotcom had his assets frozen after he was arrested in January 20 for alleged copyright offences. He remains on bail at his Coatesville mansion ahead of an August extradition hearing.
The 38-year-old and his associates, Mathias Ortmann, Bran van der Kolk and Finn Batato, are accused of breaching international copyright laws to the value of US$500 million.
- Herald online