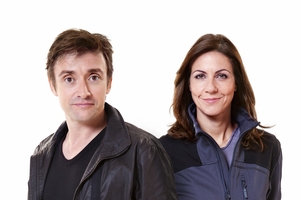 It's a little like Big Brother with animals. Only many of the characters in Planet Earth Live are more intelligent and graceful than those appearing on the human version.
"You could also say it's like a great big soap opera with animals from all around the world," says Tim Scoones, the executive producer of the series which screens live in New Zealand (as well as 140 other countries) over the next two weeks on BBC Knowledge.
"Or, it's also like a news program because we will be reporting on real events as they are unfolding and you have no idea what's going to happen," he laughs.
The live natural history event will be anchored in Africa by Top Gear's Richard Hammond and in the US by BBC presenter Julia Bradbury.
Planet Earth Live is from the makers and team behind the excellent Frozen Planet series and it is being billed as the BBC's "most ambitious global wildlife series ever undertaken".
It will be shot across five continents in seven locations including a look into the lives of baby elephants in Kenya, the macaque monkeys in Sri Lanka, and the black bears of Minnesota.
The beauty of PEL is that it follows specific animals - or characters, if you like - so it's not just a static camera set up in the middle of the Kenyan savannah to see who happens to mosey by.
"This isn't some generic thing about lions or elephants. We've got specific named individuals that we are following who we are sure are going to have interesting stories," says Scoones.
"We're storytellers. We're in the drama business, if you like, and the documentary business, because everything is factually correct, but the key driver is animal drama."
The idea is the culmination of around 10 years of innovations from the technology pioneered on BBC blockbuster series such as Frozen Planet, to the advancements in live broadcasting and real-time storytelling technology.
"It's a subtle art, because you generally don't know what's going to happen, you know what might happen, but you just literally have to make it up as you go along," says Scoones, a self-confessed nature freak.
Though PEL comes off the back of Frozen Planet, it has more in common with a smaller, interactive British nature TV show called Spring Watch, which Scoones has produced for a number of years. It has become somewhat of a hit show in Britain and screens live over four weeks in late May and early June focusing on animals living in gardens and parks.
"We put cameras in their nests and literally follow them 24 hours a day for a month. People are really interested in watching animals' lives play out in front of them because it is really real as most of the time the animals have no idea we are there.
"So if you bring the big landmark glossy global stuff together with the innovations we've done in this event-based live interactive Spring Watch thing, you've got dynamite basically. We've always been dreaming about it but it's taken 10 years to get everything in place, and to finally have the balls to attempt it."
Scoones, sounding rather excited, says it also paves the way for a new super genre of documentary.
"A super genre of natural history in particular. Because in terms of entertainment, news and sport, we've been doing this sort of thing for years, but now we can bring the real world and factual television into that realm too."
LOWDOWN
What: Planet Earth Live
Where: Live on BBC Knowledge, May 11, 14, 18, 21, 25 at 7am (with encore screenings of the day's action at 9.30pm)
-TimeOut