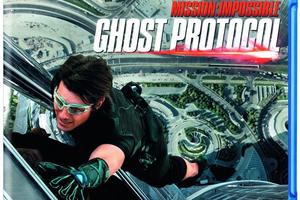 Anyone doubting Tom Cruise's balls as an actor only has to watch the stunning stunt work he does while swinging around the the top of the Burj Khalifa - Dubai's tallest building.
That jaw-dropping sequence, which Cruise did without a stunt double, is the epicentre of the fourth, and best, Mission Impossible film to feature super spy Ethan Hunt.
From the complicated action sequences to new characters like Simon Pegg's tech guru Benji and Hunt's new sidekick William Brandt (played by star-on-the-rise Jeremy Renner), there's plenty to sink your teeth into in this outing directed by Brad Bird.
Sure, things go a little AWOL when things head to India for the film's closing stanza, but that's what happens when you put a stunning skyscraper stunt sequence in the middle of your film.
Extras: A featurette on how Cruise pulled off that stunt work in Dubai, an inside look at the sandstorm action sequence, deleted scenes and an alternate opening to the film.
Stars: 4/5
- Herald online