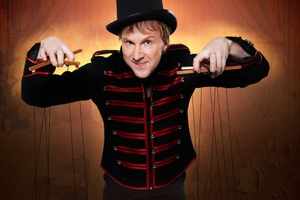 There I was, on my feet channelling my thoughts towards comedian Chris Cox up on stage. He was motioning towards me with his gangly arms, coaxing the thoughts out of me.
"Dance like C-3PO, dance like C-3PO," I kept muttering to myself.
You see, I had to project to him, as hard as I possibly could, the word "robot", which had been written down on a bit of paper by another audience member and shown secretly to me. Obviously, Cox had no idea what that word was.
But do you know what, the man who calls himself the mind reader who can't read minds, actually read my mind. As I kept channelling my robot mantra he started dancing like C-3PO might have done at Chalmum's Cantina in Star Wars.
I have no idea how he did it, but it was impressive stuff. And I have no idea how he did many things during his hour-long set that is a mix of love story, mind manipulation, magic show, and crazed chaos.
He's not really a comedian, and told some unashamedly awful jokes, but what makes him funny is how masterfully clever he is.
Cox's sign-off came with a plea to reviewers not to reveal too much of what goes on at his show, which is fair enough too since mind reading is all about mystique. So let's just say if you are hauled up on stage, or told to channel your thoughts, go with it because it will be a hoot. And as your reward he will give a very cool "I love Cox" badge for your time.
Audience participation is key in Irishman Jason Byrne's People's Puppeteer show too. But when he realised he had such a willing crowd of "freaks" to work with he seemed to throw much of his pre-planned show out the window.
And the intense, quick-witted and highly strung comedian delivered some raw unscripted comedy at its hilarious best.
His first target was a fellow Irishman in the front row whom he man-handled on to stage to show everyone his jean shorts, and best of all was Arama (whose name was the source of much ridicule, with Byrne resorting to calling him Mahna Mahna instead), a funny chap who declared his desire to get his rather biblical sounding name in the Holy Book one day.
"You couldn't make this shit up," said Byrne looking bewildered.
Even his constant ribbing of the Kiwi accent never got tired.
"No wonder New Zealanders and Irish get on so well. We can't understand what the f*** each other are saying," he hooted.
The show, which clocked in well over its hour long schedule ("The only reason I'm trying to keep you here a little bit longer is to keep you mixing with the public"), was side-splitting right from Byrne's opening Irish jig, to his human xylophone (where he played the crotches of three blokes with various sized mallets), to the finale of more Irish dancing, only this time with audience members Greg, a fellow Catholic Irishman, and Ben the heathen Kiwi.
"This is excellent," laughed Byrne.
I left with my cheeks and belly aching.
REVIEWS
Who: Chris Cox, Fatal Distraction
Where: Rangatira at Q, 7pm, until Saturday.
Who: Jason Byrne, People's Puppeteer
Where: Rangatira at Q, 9pm, until Saturday
Reviewer: Scott Kara.