Britrock outfit the Kaiser Chiefs finally make it to Auckland next week. Lydia Jenkin reports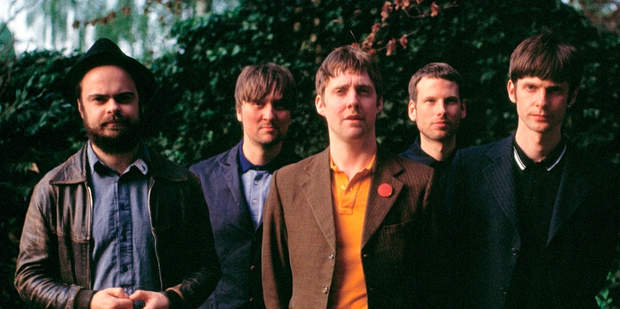 With a 20-date British tour under their belt, followed by a lengthy North American jaunt, including stops at Coachella and a spot on David Letterman (where their drummer sold his kit to Letterman live on TV), Kaiser Chiefs' guitarist Andrew White sounds very chipper down the line as he muses on the prospect of their first New Zealand show.
"It seems ridiculous that you always go away to Australia but never do the extra leg, and I think we've had a few times where we've even been booked, but we've never managed to get there, so we can't wait. It's another one to tick off the map, but it's a big one!"
It's definitely been a year of "trying new things" for the group, who released their fourth studio album The Future is Medieval in June last year in a pretty inventive and experimental manner - they put 20 songs on their website, from which fans could choose 10 to "make their own album", along with artwork. And those fans could then onsell their version of the album to other fans, and get a small kickback.
"We just wanted people to get involved, get stuck in, experiment ... We'd released three albums in the traditional manner, you know, where you can pre-order it months ahead, and radio plays the single a month ahead of the release, and by the time it comes out you're almost bored of it. Maybe not bored of it, but it's not so exciting."
The band, who've all been friends since university, didn't actually have a plan to release a fourth album; they were happy taking a break. But their drummer and vocalist Nick Hodgson, who's the driving force behind the band's songwriting, had come up with a few songs, and they were debating whether to release an EP when lead singer Ricky Wilson came up with the "make your own album" idea.
"We thought, yeah, that's brilliant. It kind of rejuvenated us and gave us a passion for releasing music again. So whether it succeeded or not commercially was irrelevant to us, it genuinely was. It revitalised us, and that was success for us," White says.
They've also released a 12-track CD version of their own favourites, and earlier this year released a North American version called Start the Revolution Without Me.
The 20 tracks reflect a slightly more mature Kaiser Chiefs, and a band slightly less concerned with writing a hit single and more interested in satisfying their own curiosities.
"We are better players, and with this particular album we weren't trying to write the perfect pop song, we were trying to write great tracks, whereas maybe when we were younger we were trying to get the perfect song. Say with I Predict a Riot, we'd spend hours writing it, and then we'd spend hours going, 'okay what do we not need?', and trim all the excess off, and slim it down. But this time we added all the cowbells and orchestras and everything we wanted.
"The next album might be back to more punky three-minute songs though."
With help from super-producers Tony Visconti and Ethan Johns, they happily delved into a new, more layered sound palette. But it turns out these layers have proved a small stumbling block in the live arena - an area where the Kaiser Chiefs have long excelled as a hyper-energetic rock 'n' roll band.
"There are a few songs on the album that we can't actually play live, because there are maybe three or four guitar tracks involved, or 10 keyboard tracks. But we're getting there slowly. We've always been against loops and backing tracks, and artificial drum beats, but we need to use that sort of thing [on some of the new songs] so we're slowly introducing a little bit to some tracks ... We still definitely try to keep the whole rock 'n' roll ethic alive though, with songs like I Predict a Riot, and Take My Temperature.
"We're getting older now, but we're as rock 'n' roll as we can be".
Who: Brit-rock five piece Kaiser Chiefs.
Where and when: Thursday May 10 at The Powerstation.
Latest album: The Future is Medieval
-TimeOut