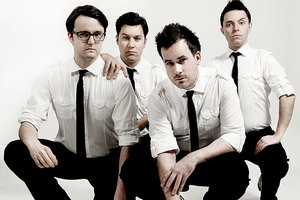 The intriguingly named Idiots of Ants open with an elaborate homage to Pirandello's Six Actors in Search of an Author, which proves to be the perfect emblem for a sketch comedy troupe that has obliterated all remnants of the boundaries that once separated role-playing from reality.
The Idiots of Ants inhabit a media-saturated world where gaming consoles, slo-mo replays, Facebook pages, subtitles, Photoshopping and sound effects are blended into an ironic, self-referential soup that is sharply seasoned with a touch of Pythonesque absurdity.
The enigma of the group's name can be solved by exchanging a word space for a letter space and adopting a faux French accent but this kind of cleverness is constantly undercut by a wildly energetic performance style.
The more successful sketches rely on physical theatre techniques and the boys are not averse to a bit of toilet humour.
The lads throw themselves into their roles with the reckless abandon of a Theatresports troupe and the unpredictability of the storylines suggests the highly polished script has emerged out of some seriously chaotic improv sessions.
With a quick-fire sketch comedy format there are inevitably a few misses along with hits but the rapid pace of the show means the laughter keeps flowing, and when the audio-visual effects fail to keep up with the action the gaps are filled with skilful ad-libbing and audience interaction.
Behind all the technical sophistication and pop culture references the humour is grounded in some sharp observations of middle-class manners with some great gags on fatherhood, family life and gender differences.
What: Idiots of Ants
Where: Herald Theatre
When: Until May 5