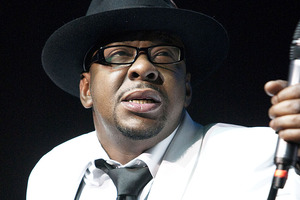 Bobby Brown had no idea Whitney Houston was taking drugs before she died.
The 48-year-old singer died in Beverly Hills in February from accidental drowning caused by cocaine use and heart failure and although her former husband Bobby has been widely blamed for introducing her to illegal substances, he claims he has been clean for seven years and was shocked to discover Whitney was still taking drugs.
He told Today's Matt Lauer: "It's just unexplainable .. how one could, you know, (say that I) got her addicted to drugs. I'm not the reason she's gone.
"I was hurt. I was hurt ... because, you know, me being off of narcotics for the last seven years, I felt that she was, you know, I didn't know she was struggling with it still. But at the same time, you know, listen, it's a hard fight. It's a hard fight to, you know, maintain sobriety that way."
It was claimed after Whitney's death that she and Bobby had been planning to remarry in Las Vegas.
Whitney had apparently wanted to reunite with her former husband of 14 years and the pair had decided on an intimate ceremony with their daughter Bobbi Kristina as the only witness.
Author Derrick Handspike - who wrote Bobby's biography - said: "Bobby told me, ' Whitney and me are getting married again.'
"They were planning a small wedding, probably in Las Vegas with just the two of them and their daughter Krissi. Bobby told me, 'The world may have thought we were history, but the reality is we were never really apart. We've never stopped loving each other.'
"After his dad's funeral in Boston in December he flew to Atlanta. For the next week Bobby holed up at Whitney's home, where they rekindled their romance and their intimate relationship.
"They slept together in Whitney's bedroom and talked about what kind of wedding they'd have."
- Bang! Showbiz