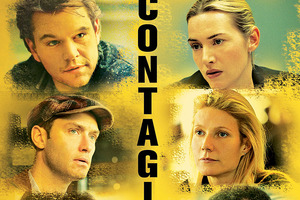 If you were wondering where Hollywood's A-list actors have gone lately, it's likely they ended up in Contagion.
The Steven Soderbergh-directed film is a who's who of Hollywood, starring everyone from Matt Damon, Laurence Fishbourne and Gwyneth Paltrow to Kate Winslet, Jude Law and Bryan Cranston.
Even comedian Demitri Martin pops in for a mini cameo as a nerdy lab technician.
The film's heavy-handed message - basically an updated Outbreak that repeatedly tell viewers that we should be washing our hands more often - is delivered in a diarised format that documents the spread of an infectious and deadly disease.
But Contagion takes a different approach to similarly-themed films by following everyone involved with the spread and containment of the disease, from government and health authorities to the guy coughing next to you on the train.
As a result, it's fast-paced, a little scary and occasional heavy-handed in its emotionless delivery.
But if you get bored, you can always start a spot-the-A-lister drinking game with your flatmates.
Extras: A documentary on the film's stars and a medical journalist discussing the impact of viruses on humans, and several related features on deadly diseases.
Stars: 3/5
Watch the trailer for Contagion:
- Herald online