The New Zealand International Comedy Festival begins this weekend bringing local and international comic heroes to our stages. Lydia Jenkin chats to The Axis of Awesome about their forthcoming shows.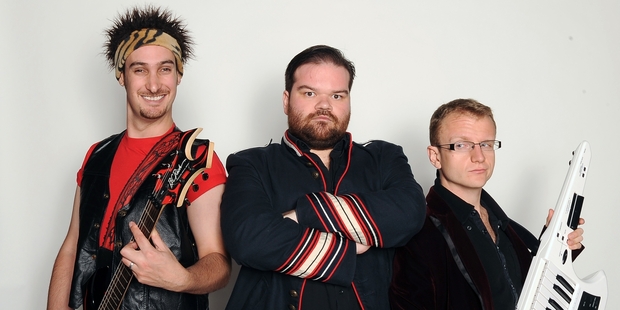 "Three human men who stand on stage and sing funny songs".
That's how Jordan Raskopoulos, one third of Australian musical comedy trio The Axis of Awesome, describes their act. And yes he knows he resembles Jack Black; they've even written a song about it.
Along with Lee Naimo and Benny Davis, he got into "singing funny songs" almost by accident, having done lots of improv comedy together at university, and looking to take it somewhere different.
"I did choir at school and played violin a little bit when I was younger, but I had very much a comedy background with doing the Ronny Johns' half-hour sketch comedy show, and so on. Benny, the pianist, he studied music at the Sydney Conservatorium, he has multiple degrees and all that kind of thing. And Lee's background is also in comedy, though he's really good at administration."
In 2007, they wrote a few songs about the Australian federal election, which hit the public's funnybone and gained attention online. But that was nothing compared to the explosion of interest after they came up with The Four Chord Song in 2008.
More than five million people have watched their medley of at least 36 pop songs which are all written in the same four chords which features everyone from the Beatles to Bob Marley to Lady Gaga, charming audiences with its simple genius and jaw-dropping effect.
"Benny had absolutely nothing to do with it whatsoever. He might say that he was playing covers gigs, and that people were requesting songs, and that they were all the same, and that he was very annoyed, so he strung them all together. But that's not true at all. Lee and I came up with it in the bath together. We discovered when we got in the bath that the water level rose, and then an apple fell on our heads, and then we wrote it. That's what happened."
They do have to update the song every six months or so to include new pop hits - and yes, the music industry does keep churning them out.
"We find out what's new in the charts, and put all those songs in, because they generally fit. Rihanna has quite a few. And so does Adele. But that's a good thing for us because it's the kind of song people always want to hear, but the fact that we can update it and change it, and make it fresh for audiences is great."
They don't just sing songs though, they also write original songs which parody a genre.
For example How to Write a Love Song - which firmly takes the mickey out of syrupy boy band R&B type ballads. They've also got a hip-hop medley in the form of Ode to KFC.
"I think doing freestyle rap is probably difficult, but when we have to practise, it's all good. I do find that when I rap, I do it in a voice that's probably a little too high to be cool. Like I try to do Eminem's voice, and he sounds cool, but when I try it sounds kind of high and squeaky and not cool."
But "not cool" is also funny, and that's exactly what this talented trio are all about. It seems Australia knows how to do musical comedy too.
Who: The Axis of Awesome
Where and when: Town Hall Comedy Chamber every night at 7pm from April 28 to May 5 (excluding Sunday)
-TimeOut