The New Zealand International Comedy Festival begins this weekend bringing local and international comic heroes to our stages. Here, Stephen K. Amos talks about his forthcoming shows.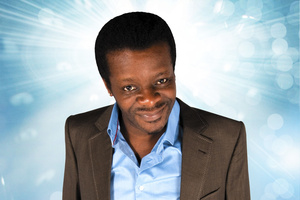 Describe your show in 10 words or less:
I have an agenda and it is to make you laugh!
Will we have heard any of the jokes before?
This is a new show that I have not performed in New Zealand.
So, why should we go to your show instead of saving our money for Flight of the Conchords in July?
I am too proud to beg. There are many shows and we are all different!
What is your pre-show ritual?
I don't have any superstitions and I am not an OCD sufferer.
Is dying on stage a rite of passage for a comedian or something to be avoided at all costs?
I believe it is a rite of passage. We all have to learn our craft and find our own voice the hard way. It is always good to experiment with new ideas and go beyond your comfort zone too. If that means leaving the stage to the sound of your own heartbeat, fair enough.
Every gig is a learning curve.
Are members of the audience fair game? Or should they be treated with respect at all times?
I do like to talk to my audience and it's not my style to humiliate anyone, unless of course it's a drunken or clever participant.
If you were a superhero who would you be?
I would like to have all the powers of every superhero combined, without the cape, mask or underpants-above-tights look.
For those of you who don't have a musical aspect to your show ... how do you compete with all those clever dicks offering the double whammy of musical comedy?
I don't have music, would love to be able to play an instrument too. There's plenty of room in the comedy spectrum for all different kind of styles. I don't consider my colleagues competitors. Audiences know what they like.
Who will you be heading along to see during the festival?
To be honest, I don't have much time on this trip and most of the comics I know also. I may look through the guide and take a chance on someone I do not know.
From: Britain
In: Laughter is my Agenda
When and where: SkyCity Theatre, April 28, May 1 and 2
-TimeOut