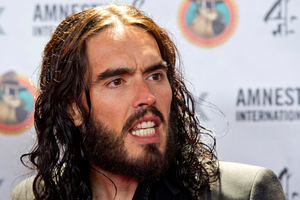 Russell Brand - who is himself a recovered heroin addict - has told a panel of British Members of Parliament reviewing the government's drugs strategy that many people who take drugs consider the law as an "inconvenience" and an alternative approach to an outright ban should be taken.
"A good number of times I was arrested was simply for possession and the administrative costs of that would be better spent, I think, on education and addressing the costs of treatment," Brand said.
"I think that would be a very, very sensible use of those redirected funds.
"I'm not a legal expert, but I'm saying that to a drug addict, the legal status is irrelevant. It is at best an inconvenience. If you need to get drugs because you're a drug addict, you're going to get drugs regardless of their legal status so the more money you waste in administering and controlling that ... I think there's a futility to it."
The 36-year-old actor, who turned up to the London review in a black hat and torn jeans, said some people take drugs in a safe environment and he believes an open and honest debate is the way forward.
"I think some people can safely take drugs, I think they can ... as long as it doesn't turn them into criminals, or harm their health, then I don't feel as if it's any of my business.
"Let's have an authoritative, truthful, honest debate and some funding for abstinence-based recovery."
BANG! SHOWBIZ