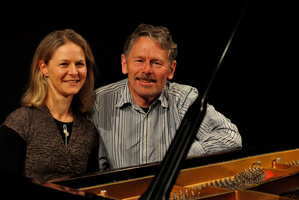 Richard Mapp and Emma Sayers opened this year's New Zealand International Piano Festival playing music for four hands on one and two keyboards. Schubert's Lebenssturme, dating from his last dying months, swerves from brash marches through precipitous key shifts to hushed meditation. The Wellington pianists made a total musical and emotional journey of it all.

They did the same with Kenneth Young's Variations on a Prayer, which had been written for them. Young's textures seem to catch the very act of supplication with a chorale-like theme that had distinctive middle eastern inflections.

With Mapp and Sayers, the music remained spiritually and technically aloft, as they dispensed cascading Messiaen-like harmonies and, elsewhere, chords that cried out for voicings from the late jazzman Gil Evans.

Still on one piano, three characterful if lightish dances from Samuel Barber's Souvenirs were followed by Poulenc's Sonata for Piano Duet; a work that ranges from feisty to sentimental, beautifully caught without any foregoing of elegance.

The second half of the concert set off with Anthony Ritchie's two-piano recasting of his Third Piano Concerto. The original, which Aucklanders have heard twice over the last few years, has a real charm, sustained by Ritchie's enviable stylistic fluency.

Yet, without orchestra, the work's essential lightness was compromised. Within minutes I was sorely missing the original's breezy trumpet waltz. And, despite impeccable teamwork, the sharing of material detracted from a genuine concerto conflict, with solidity defined by colour rather than volume.


More successful were six pieces from Bartok's Mikrokomos, arranged by the composer specifically for two pianos, and the energetic duo had fun with some of the jazzy Bulgarian mashes. Lutoslawki's Variations on a theme of Paganini was every bit the breath-taking showcase it should be.

The encore was curious; an arrangement of a Bach Sinfonia in which Hungarian modernist Gyorgy Kurtag simply ignored the piercing flute dissonances in the original.

One hopes music-lovers will take this brave festival to their hearts, ensuring that this week's concerts, starting on Tuesday night, get the patronage they deserve.