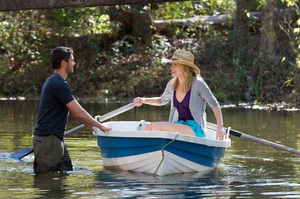 Cast: Zac Efron, Taylor Schilling, Blythe Danner, Riley Thomas Stewart
Director: Scott Hicks
Running time: 101 minutes
Rating: M (contains violence and sex scenes)
Verdict: Indulgent romantic diversion for those with a sweet tooth

If The Lucky One is to be believed, a US Marine who's done three tours in Iraq can come back home, and heal his post-traumatic stress by walking his way across the country to North Carolina with his canine best friend in tow, and finding work in a dog kennel.
And of course the kennel is owned by a golden-haired angel of a solo mother (named Beth), whose photograph seemingly "saved" this Marine (named Logan) while he was serving his country. And of course she lives in a beautiful old homestead, with a wonderful, wise grandmother who can guide everyone to happiness. And of course her son is a sweet-natured child who likes to play the violin, and do magic tricks. And of course Beth's ex-husband is a meathead, power-tripping local sheriff who needs to be put in his place.
And of course Logan bonds with the son, and the grandmother, and the dogs, and eventually wins Beth over too. Of course.
But poking holes in the plot line seems a little churlish, because you don't go to a romantic drama like The Lucky One for a dose of reality.
Director Scott Hicks just wants you to give in to the syrupy, sentimental ride. And it is quite an indulgent ride he has concocted. North Carolina looks idyllic in lots of dappled sunlight, and there are lovely rivers to go boating on. But the key to those heartstring tugs is the chemistry between Zac Efron and Taylor Schilling, even when they have to deal with cheesy scripting. Efron does a winning job of being the "dream guy" (he can fix boats and houses, play piano, dance, and says things like "you should be kissed, every day, every hour, every minute"), and Schilling, who's relatively unknown, has a nice blend of girl-next-door ingenuity combined with wide-eyed sweetness that's quite irresistible. They're both surprisingly watchable, and along with young Riley Thomas Stewart as Beth's son, and a charming Blythe Danner as the grandmother, their performances help hold the film together, even as it wanders into entirely ridiculous territory with a climactic stormy night scene on a disintegrating bridge over a swollen river. The final 15 minutes undoes a lot of the sugary web of daydreaming fancy by taking the eye-rolling nonsense to a whole new level. But it's an easy ride, a pleasing diversion, and certainly serves its purpose as a romantic melodrama.

- TimeOut