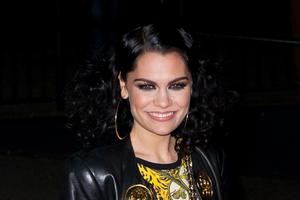 She's only been in the spotlight for what seems a matter of minutes.
Yet Jessie J was yesterday forced to rubbish lurid claims in a new biography.
The singer has always been open about her bisexuality. But an unauthorised book about her rise to fame insists she is in fact a lesbian.
Author Chloe Govan said The Voice star, 24, had been told by record executives to hide her true sexual orientation because it could alienate fans.
In her biography, Who's Laughing Now? The Story of Jessie, Miss Govan wrote: 'Jessie might have been with boys in the past, but she is 100 per cent gay.
'She was advised not to come out though. Certain people looking after her career thought that while being bi was trendy, exotic and a fashion statement, coming out as gay would alienate people, especially male fans.'
Yesterday, Jessie whose real name is Jessica Cornish took to her Twitter account to attack the claims, writing: 'It's funny how many people I've dated\slept with that I've never even met according to the tabloids.
'BUT what's that?! *whispers because it's a secret* I'm really a lesbian?! Ha! Thanks for writing yet another boring untrue story.'
Jessie who was recently linked with rapper Tinie Tempah added: 'I thought I was still dating Tinie, NO Ellie G, NO Mark Wright....bla bla bla! #cantkeepup #noneofitstrue'.
Earlier in the day, the star had tweeted: 'She said that you said that I said that you said that I said what she said to you to bla bla bla bla bla...'
According to the book, Jessie's relationship with a long-term girlfriend, Kira, was put under strain by the singer being unable to reveal her sexuality. Miss Govan wrote: 'From the very beginning, Jessie was openly lesbian and didn't hide it from anyone, but as her career developed, she had some of the wrong people around her.
'Jessie was frightened of losing her connections and opportunities for fame, so went along with it, but she was incensed that she was being asked to compromise herself like that.'
The claims come a week after the singer told Glamour magazine she would never use her sexuality to sell records. She said: 'Sexuality shouldn't define you. It should be part of who you are.'
A friend told the book: 'People didn't ask her not to be gay but they simply asked her if she would be comfortable in going along with something that meant she wouldn't immediately be tagged as that British lesbian singer.'
Jessie has enjoyed a meteoric rise to fame. Her debut album Who Are You was a hit and she is now being paid a reported £200,000 as a coach on BBC's The Voice.
Spokesmen for Miss Cornish and Island Records were unavailable for comment.
- DAILY MAIL