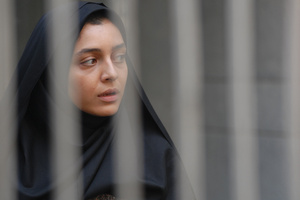 In the opening scene of this sublime and utterly heart-wrenching Iranian domestic drama, the Oscar-winner for best foreign film, a man and a woman, sitting side by side, seem to speak directly to us.
It soon transpires that they are husband and wife and their actual audience is a judge: the woman, Simin (Hatami) wants a divorce, not because she doesn't love her husband - "He's a good and decent person," she tells the judge - but because she wants to emigrate to seek a better life with her daughter, and her husband, Nader (Peyman) won't leave his senile and housebound father.
It's a simple, paralysingly intractable problem, in which many families would find familiar echoes, but director Farhadi, who wrote the precise and finely calibrated script hasn't even got started. The judge tells Simin to "go back to your life", but the conflict between the two has set in motion a huge machinery of consequences that none of us - least of all the characters - is aware of.
Simin doesn't go back to her life. She moves out of the apartment and Nader is forced to hire a housemaid, Razieh (Bayat) to look after his father.
Razieh arrives with problems of her own, not least a husband (Hosseini) who is out of work and bitterly resentful about his place in the scheme of things (one of the film's many incidental pleasures is its precise depiction of the uneasy class relationships in Iranian society).
Exactly what transpires to bring the lives of these two families into a terrifyingly intimate collision is best left to the film to unfold. But it's worth saying that the whole thing is kept aloft by the performances of an extraordinary ensemble. Sarina Farhadi (the director's daughter) as Terme, the daughter of Simin and Nader, stands out as the most tragic, yet finally the most hopeful figure, caught against her will - against anybody's will - in the emotional crossfire of what goes on, but every character is piercingly plausible and every line rings true.
Farhadi uses space beautifully, moving the camera around an apartment, a hospital's public areas, a police station, in a way that perfectly evokes the characters' misapprehensions and internal turmoil.
And what sets A Separation apart from other films of its ilk is that it has no villains: all the characters are trying to do their best in circumstances that continue to spiral out of their control. The film is extraordinarily tense - indeed, half of its plot is a legal thriller - but it oozes a quiet and humane compassion for the decency of ordinary people.
It's a masterpiece of social realism that is certain to be one of the best of this year. Do not miss it.
Stars: 5/5
Cast: Peyman Moaadi, Leila Hatami, Sareh Bayat, Shahab Hosseini, Sarina Farhadi
Director: Asghar Farhadi
Running time: 123 mins
Rating: PG (low-level offensive language) In Persian with English subtitles
Verdict: Social realism at its best
-TimeOut