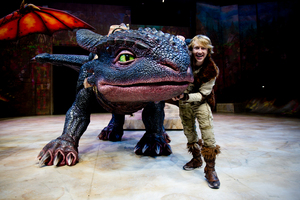 The arena spectacular is a curious hybrid, somewhere between the hyper-reality of a 3D movie and the old-fashioned charm of a theatrical extravaganza.
Beyond the wow factor of some meticulously crafted and ingeniously animated life-sized dragons, the production has all the characteristics of a puppet show.
The technological wizardry is impressive but as with any puppet show the magic comes from the audience's willingness to make an imaginative leap into the world of illusion.
At times, the magnitude of the spectacle works against this kind of engagement but the show is at its best when high-tech thrills are matched with traditional stage craft.
A flotilla of Viking ships held like Chinese lanterns above a laser-light sea was wonderfully enchanting, and classic shadow puppetry was used to stunning effect when the students of the dragon fighting school were given a lesson on the beasts' taxonomy.
The animatronic monsters also had their moments - a romantic night flight on the back of a dragon named Toothless was enthralling and the fight scenes were sharply choreographed with the monsters blitzed on all sides by a wonderfully acrobatic cast.
But probably the strongest aspect of the show was the storytelling, which clearly draws on the scriptwriting expertise of Dreamworks' big screen epics.
The main storyline deals with the perils of inter-species friendship and delivers some emotionally charged scenes in which the hero is torn between loyalty to his community and a vision of a better world.
The awesome special effects of a movie blockbuster sometimes sit uncomfortably alongside the more intimate appeal of live theatre, but judging by the reactions of younger members of the audience this partnership might represent the future of theatre.
REVIEW
What: How to Train Your Dragon Arena Spectacular
Where: Vector Arena until 22 April.