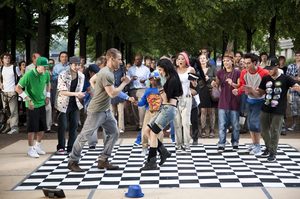 PARISIAN DANCE-OFF: Ash and Eva bust some moves in StreetDance 2. Photo / Supplied
The original StreetDance brought dance to the big screen in a way that was fresh, exuberant and innovative. The same directors are back for the second instalment, delivering more of the same. And I do mean more of the same. What in the first film was the collision of ballet and street dancing is this time round the merging of sensual Latin dance with hip-hop-driven street dancing.
After Ash (Hentschel) is humiliated on the floor by US crew Invincible, he assembles a pan-European troupe, including sultry Latin dancer Eva (Sofia Boutella), to take on the Americans at a dance competition in Paris. The "acting" is mostly unconvincing, but it is filled with plenty of high energy and infectious routines. 3D fatigue may mean the dancing doesn't look quite as striking as it did first time around, but if you're going to this film for its impressive moves you won't be disappointed.

Cast: George Sampson, Tom Conti, Falk Hentschel
Directors: Max Giwa, Dania Pasquini
Running time: 85 mins
Rating: PG (sexual references)
Verdict: The dancing is great, as long as you can stomach the corny storyline