Veteran traveller Henry Rollins hits New Zealand for a spoken word tour soon. Volume caught up with him for a State of the World address.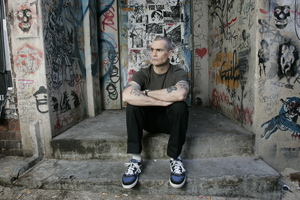 Having travelled to the shadiest corners of the world, Henry Rollins reports that it is not a scary place.
In recent times the ex-Black Flag frontman has been to destinations including North Korea, Haiti, Mongolia, Iran and Cuba. He says while that doesn't necessarily make him an expert on world affairs, it does give him an insight, particularly into the United States' self-appointed global policing role.
"I don't know who made America the boss," Rollins exclaims. "When any other country has the temerity to say 'we want to do what we want', the fact my country has a thing to say about it strikes me as odd sometimes."
The fact that he's generally had a good time and been treated well by the people in the Middle East has made Rollins question the way those countries are framed in Western media. That's convinced him that there's not as much to fear in the world as some would have us believe, and that the US could instead serve the far greater purpose of making things better for people around the world.
It is for this kind of hard-won education that Rollins travels in the first place.
"To take the myth away from something," he muses of his motivation for visiting places many view as difficult. "My country has a very intense relationship with Iran, and I'm one of the only people I know who's been there. It's not an easy place to get to and it's not cheap either. But I did it and I think I'm all the better for it."
That would act as a fitting statement of intent for a man who's been travelling hard since joining Black Flag in 1981. His five-year spell in that defining Los Angeles hardcore group was tour of duty enough, but Rollins was never going to stop at that. Even during his Black Flag tenure he'd begun shaping parallel careers in spoken word performance, writing and publishing.
This month his spoken word tour The Long March visits New Zealand for four dates. Naturally his provocative, humorous, charged performances are informed by the things he's experienced around the world.
"I'm always looking for new material to talk about, things to challenge my mind," Rollins reflects. "The more ingredients the better: I'm always looking for more source material. Some things jump right out at you and sometimes it's weeks later when you learn the lesson about what you saw. There's always something to get."
He admits that the endless travel takes a toll emotionally and physically, but to some extent he's come to live for the long periods of dead time spent waiting, exhausted, in transit lounges.
But, as Rollins explains, he's obsessed with his work. And nowadays that work spans television, radio, acting, publishing and human rights activism. But no longer music - not since the Rollins Band ended in 2006.
"I just don't think I have anything more to add to it except repetition or being a caricature," Rollins says. "If I can't do anything new with it then I'd rather not do it. I just think me in it would be me not being courageous enough to go off and pursue other things. A few years ago I said, 'Okay, let's see what I can do without the band' and I'm working eight days a week trying to keep things contained. I consider that a good thing."
And so, after three decades of relentless hard work across multiple realms, Rollins can still say he enjoys every aspect of what he does.
"The biggest part is that I get to do it," he considers. "I can still go on tour and tickets are sold. I can still be that guy up on stage. There's work to be done. I like getting up every day with something to do. Nothing holds no interest for me. It's not about money, it's about activity."
See Henry Rollins on The Long March Tour:
Wednesday 11 April, Clarence St Theatre, Hamilton;
Thursday 12 April, Dux Live, Christchurch;
Friday 13 April, The Opera House, Wellington;
Saturday 14 April, SkyCity Theatre, Auckland.