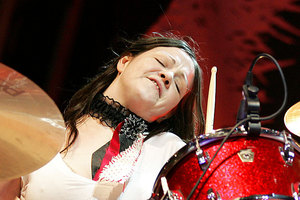 Footage of indie alt-rock heroes The White Stripes performing in New Zealand for the first time will be included on an upcoming DVD called Under New Zealand Lights.
The now defunct duo, known for hits like Seven Nation Army, will release the DVD to subscribers of front man Jack White's music label Third Man.
It will include footage of the band performing at the King's Arms in Auckland in 2000 during the band's first international tour.
A statement on the band's website called it "some of the earliest known footage of the White Stripes outside North America and finds them confident and captivating before an unexpecting crowd".
It will also include footage of the band performing at Freeman's Bay Primary School in 2003 in a show that "has been kept mostly under-wraps in the nine years since it took place".
The White Stripes broke up last year after recording six albums together. It was rumoured drummer Meg White no longer wanted to tour.
The DVD will be released as part of the 12th release from Third Man's Vault and is only available to subscribers here.
- Herald online