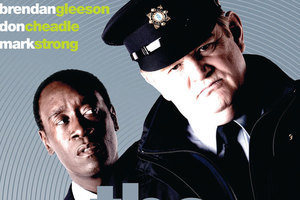 When it comes to odd big screen pairings, Brendan Gleeson and Don Cheadle have to be up amongst the weirdest - and the funniest.
Gleeson's goofy Irish sergeant Gerry Boyle and Cheadle's straight-laced FBI agent Wendell Everett make an unlikely comic duo in The Guard as the pair team up to solve an increasingly mysterious murder in a small coastal Irish town.
With a supporting cast of crazed crooks, oddball residents and sarcastic hookers, The Guard is a whimsical, silly and occasionally violent story told with a huge amount of bad taste humour courtesy of Boyle's over-the-top antics.
Much like Gleeson's other film In Bruges, The Guard is so good it deserves a sequel - even if it's just to get Gleeson and Cheadle in the same movie together again.
Extras: A bit limited with just a behind-the-scenes feature, deleted scenes, extended scenes, outtakes and a short film called The Second Death.
- Herald online