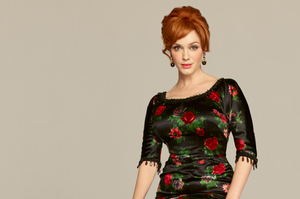 Mad Men star Christina Hendricks says her character's sex appeal is all down to the authentic Sixties underwear she wears on the TV show.
The 36-year-old actress, who plays Joan Holloway in the drama about a new York ad agency, revealed her on-screen wiggle is due to her stylish wardrobe including actual undergarments from the era.
Everything is incredibly authentic and meticulous, she told US chat-show host Conan O'Brien. "We have the full undergarments and the slips and the thing over that. It's a little bit of work to get dressed."
The curvaceous star added "You put these things on and they make you stand upright and your body naturally moves a certain way. I always thought that's what made this sort of walk happen, although my husband teases me and says I walk like that at home as well."

- Daily Mail