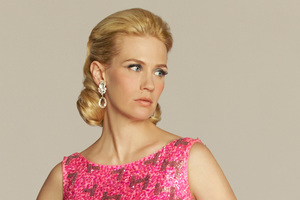 The show might be called Mad Men but for four seasons, it's the female characters who have made the show so compelling beyond the drama's central thread, the ongoing identity crisis of Don Draper.
Each of the three leading female characters has had to deal with life-changing crises from which they've emerged scarred but sometimes tougher. Meanwhile, the actresses behind them have become stars with careers which now stretch into movies, Broadway - and all the way to New Zealand.
Here's how the women of Mad Men are faring ...
January Jones as Betty Francis
Her character: Seen less in the fourth season, the former Mrs Don Draper is now enjoying a second unhappy marriage with her political adviser husband Henry Francis while trying to cope as a mother of three. She is finding it especially tough with her daughter Sally who is learning how to play her divorced parents off each other.
Her own career: In 2011, she starred opposite Liam Neeson and Diane Kruger in the thriller Unknown and played the ice queen villain Emma Frost in X-Men: First Class. Her latest film is Seeking Justice by New Zealand director Roger Donaldson which also stars Nicolas Cage and Guy Pearce.
Christina Hendricks as Joan Holloway
Her character: As season four closes, Joan's briefly rekindled affair with Roger Sterling has left her pregnant, though she's told her army doctor husband Greg, who's now in Vietnam, that he's the father. At work she's been promoted to Director of Agency Operations in recognition of keeping the ad firm afloat during its troubled times, but there's no increase in salary to go with the job title.
Her own career: Hendricks seems to have had more magazine covers than roles which have sprung from her Mad Men profile. Though she had a memorable, if short-lived turn in last year's critically acclaimed Drive, as well as supporting roles in comedies I Don't Know How She Does It and Life as We Know It. Hendricks can also be seen on the big screen in Company, a staged-for-cinema production of the Stephen Sondheim musical also starring fellow television faces Neil Patrick Harris, Stephen Colbert and Jon Cryer. It opens in selected New Zealand cinemas on April 12.
Elisabeth Moss as Peggy Olson
Her character: The agency's resident proto-feminist started out as a secretary but became the company's only female copywriter and is now second in charge to Don Draper of the Sterling Cooper Draper Pryce creative department, despite facing resentment from her male colleagues. She has started seeing political writer Abe Drexler, who should give her a line to the rising 60s counterculture in the forthcoming season.
Her own career: Elisabeth Moss has been a film regular before and since her Mad Men days began - her forthcoming films include Lawrence Kasdan's Darling Companion with Kevin Kline and Diane Keaton, as well as a role in Walter Salles' adaptation of Jack Kerouac classic On The Road. Most recently though she has been in Glenorchy near Queenstown, filming the lead role in Top of the Lake, Jane Campion's six-part miniseries for the BBC and the Sundance Channel.
-TimeOut