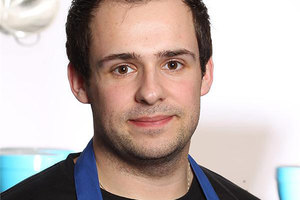 Chris Turner says he still hasn't worked out what happened to his missing desserts following his elimination from MasterChef New Zealand.
The part-time council administrator from Christchurch was bundled out of the TV One cooking competition last night after his chocolate mousse failed to live up to expectations.
The budding chef cooked 100 of the decadent desserts for 100 guests and had four left over - three of which went to the show's judges for tasting.
But when it came to serving time, Turner found two desserts were missing, meaning one diner had to go without.
"It was a bit of a shock when the waiter came over and said you needed two more," Turner told nzherald.co.nz.
"I don't know what happened, it's just one of those things. Maybe an extra guest turned up and had one.
"The moral of the story is to make plenty of extras."
Turner, who has been accepted into the Patisserie Diploma course as part of the Le Cordon Bleu cooking school in Wellington, doesn't believe his mousse was bad enough for him to be eliminated.
"When Simon (Gault) said the mousse was really bitter, it was meant to be. The recipe called for copious amounts of really dark, bitter chocolate.
"It was meant to be really rich and decadent and something you wouldn't want to eat too much of.
"I think there were other people who struggled just as much as I did in the kitchen."
Turner believed the contestants were getting better, but pressure from the judges was also increasing.

"There's no one there that I think should have gone instead of me. The pressure that the judges are putting on us to produce great food is getting tougher."
He found it hard to watch his outburst at the end of the episode, which showed a tearful Turner covering his face with his hands.
"I generally keep my emotions well in check, I'm not someone who likes to show how he feels so much. (But) when I sat in that chair and answered the first question, I completely cracked.
"I definitely wanted to go a bit further and show what I could do. I don't think I realised how much I wanted to be there before that point."
* MasterChef New Zealand screens on TV One every Tuesday night. nzherald.co.nz will interview every contestant after their elimination.
- Herald online