The night before he relocated to New York City, a 19-year-old Nathan Haines nearly had his plans derailed by a close encounter with the boys in blue.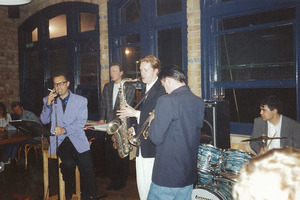 It was 1991 in what was known as Spectator Bar, way before Britomart was even a glimmer in a property developer's eye. It's now called the Kiwi Tavern, but back then Tuesday nights were THE night to be out and about, especially for those in the hospitality industry. That's the unmistakeable Peter Urlich singing in his early '90s "jazz and suit" phase, Kevin Field on keyboards unbelievably standing up to play (!), myself at age 19 on sax, Tim Whitehead on drums and Greg Johnson on trumpet.
This gig was the last from that lineup known as Peter Urlich and the Lawrence Quintet (I hadn't graduated to name-status as an act and was the house saxophonist), and what made it special was I had just won a coveted AGC Young Achiever's Award to the tune of 20 grand and was off to New York City literally the next day.
I had no idea how that initial first six months in NYC would completely change my life and music, and it's amazing to think how naive I was when I landed at JFK with a suitcase, a saxophone and beret perched on my head.
Anyway, on that final night in October 1991 we decided in great gig tradition to get stoned in the break. We jumped into my 1960s' Citroën DS and went for a drive up to High St. For some reason Peter had an ounce on him and after rolling a skinny joint, stuffed the remainder into the glove box and we parked up, lit up and enjoyed that special moment when a band gets high together in a confined space. After five minutes of deep inhaling and talking while not letting any smoke escape the lungs, there was a loud knock on the glass. It was the police!
There were two of them and both motioned to roll down the window. I looked around at the guys in the back and Peter in the passenger seat, and all they could do was stare back in horror. I slowly wound the window down, and out rushed a whole joint's worth into the face of one of the police officers. "You boys been smoking then?" he sarcastically jeered. "Alright, all out!" he shouted, and in good cop/bad cop-style (or maybe just bad cop/bad cop) they split us up into groups and grilled us.
They searched us all, emptying our pockets and frisking us down, then went looking around in the car between the seats, in the boot, and in the old classic stash spot - above the sun visor. I had an awful vision of being arrested, going to the cells, breaking the news to the AGC board that I now had a drug conviction, and of not being able to go to Australia, let alone New York! I almost passed out with the abject horror of it all, and being by this time very stoned made it even worse. Eventually I blurted out someone had given me the pot, and I was not really a smoker, but rather I was experimenting.
Confessing to not having more on me, and with the cops not being able to find any more, they let us go. We cagily got back in the DS, me at the wheel, my head reeling with the various "what ifs" - like what if they had looked in the glove box, for God's sake!
We drove around the corner and once the cops were out of sight we screamed with laughter until we couldn't laugh any more, tears streaming down our faces. We got back to Spectator Bar, played another great set, and the next day I got on that flight to NYC and of course onto the rest of my life.
To this day I shudder to think what could have been - or more precisely what could not have been. I'm not sure if someone was smiling down on me or the cops were just lazy that night, but thankfully that brush with the law was the closest I would get to being behind bars for another several years... but that's another story.
Nathan Haines' new album The Poet's Embrace is out now on Warner Music and plays the Waiheke International Jazz Festival on Easter weekend.
Who: Peter Urlich and The Lawrence Quintet
Where: Spectator Bar, Auckland
When: October 1991